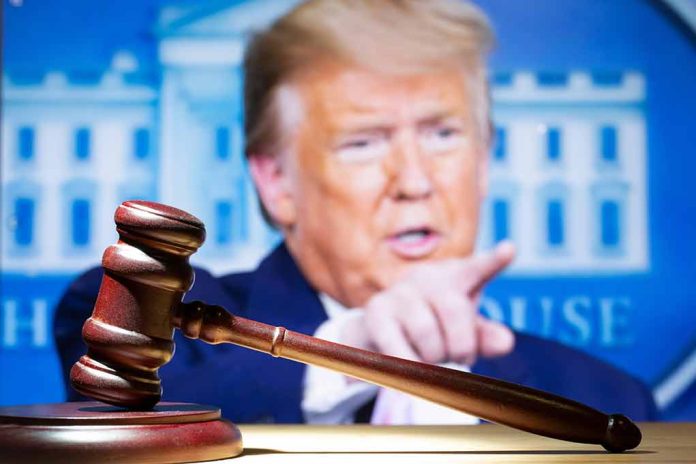 (LibertySons.org) – President Joe Biden, critical of the previous administration for its tough immigration policies, promised that he'd put an end to all border wall construction if the country elected him to office. He's apparently since changed his tune. Facing record-high numbers of people sneaking into the country, particularly through Texas, the administration has caved under the pressure and authorized the construction to resume.
Customs and Border Protection (CBP) plans to begin work on the wall in June. It will add roughly 20 miles to the barrier using funds leftover from allocations made for the project in 2019. A spokesperson told Fox News that the agency will resume construction using environmentally sound practices. However, Department of Health and Safety (DHS) Secretary Alejandro Mayorkas is reportedly waiving the Safe Drinking Water Act, Endangered Species Act, and Clean Air Act and 23 additional federal laws to ensure smooth production.
Mayorkas submitted the paperwork on October 5, citing the construction would occur in Starr County, Texas. He stated that Congress called upon him to act, instructing him to add additional fencing, cameras, lighting, and sensors to the high-traffic area. The DHS secretary noted that by August in the fiscal year 2023, Border Patrol agents encountered over 245,000 people attempting to enter the United States illegally via the Rio Grande Valley Sector. He added that despite Biden's earlier proclamation, the law still allowed them to use funds previously set aside for the project.
Former President Donald Trump's campaign reportedly responded to the news on Fox Digital, slamming Biden for changing course in the first place, noting that the project might already be complete if the commander-in-chief had kept to the course. It added, "President Trump is always right."
New York Gov. Kathy Hochul, whose policies have shifted dramatically since her sanctuary city has become inundated with asylum seekers, praised the move. She admitted that the border "is too open right now" and something must be done to limit the numbers of people slipping into the US.
~Here's to Our Liberty!
Copyright 2023, LibertySons.org