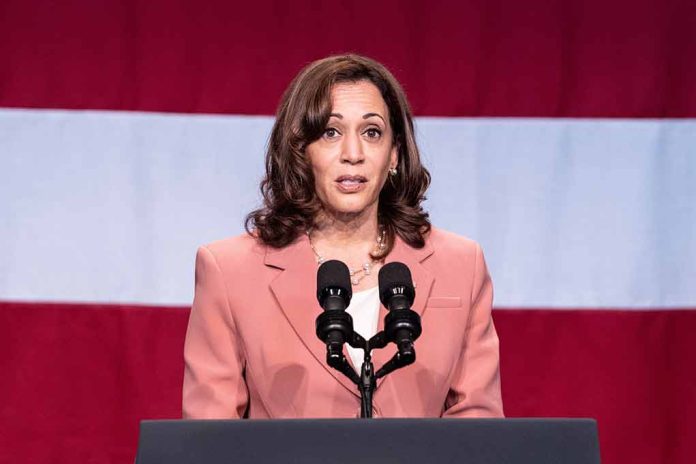 (LibertySons.org) – After successfully voting for a new House Speaker, Republicans have moved on to address the 12 appropriations bills deferred by the September 30 continuing resolution (CR). So far, the lower chamber has passed seven measures, leaving five outstanding with the November 17 CR expiration deadline looming. Yet, conservative lawmakers, unwavering in their goal to cut spending, are targeting Executive branch budget items like Vice President Kamala Harris's office and agency directors' salaries to slash the budget.
Fox News reported that the House was preparing to examine HR 4664, the financial services and general government appropriations bill for FY 2024, which controls budgeting for the Treasury Department and various executive branch offices. Some of the budgets controlled by this measure include the offices of the president and vice president, the Federal Trade Commission, the Federal Communications Commission, the Office of Personnel Management, the Federal Election Commission, the Office of Special Counsel, the Securities and Exchange Commission, the U.S. Postal Service, and the Small Business Administration, among others.
Some GOP legislators see the budget measure as a way to implement some of the cost reductions agreed to during the debt ceiling negotiations and to rein in the administration's implementation of specific unpopular and expensive progressive policies. Several lawmakers offered amendments to defund the White House Office of Gun Violence Prevention, for instance.
Other Republican representatives suggested modifications to the measure defunding specific offices. Rep. Mike Collins (R-GA) targeted Vice President Kamala Harris's office, while Reps. Greg Steube (R-FL) and Harriet Hageman (R-WY) sought to defund the Offices of Diversity, Equity, Inclusion, and Accessibility (ODEIA) within the Treasury and the Office of Personnel Management, respectively. Rep. Marjorie Taylor Greene (R-GA) even proposed reducing IRS Commissioner Daniel Werfel's annual salary to $1.
However, even though the House may pass appropriations bills with significant cuts and amendments, the Democratic-controlled Senate is unlikely to pass the measures, and the White House has already signaled vetoes. Given the recent difficulty the lower chamber encountered in electing a Speaker, the chances of overcoming a veto seem unlikely.
Despite optimism on the House floor that lawmakers could pass the remaining five appropriations measures ahead of the November 17 deadline, another short-term CR may become necessary.
~Here's to Our Liberty!
Copyright 2023, LibertySons.org