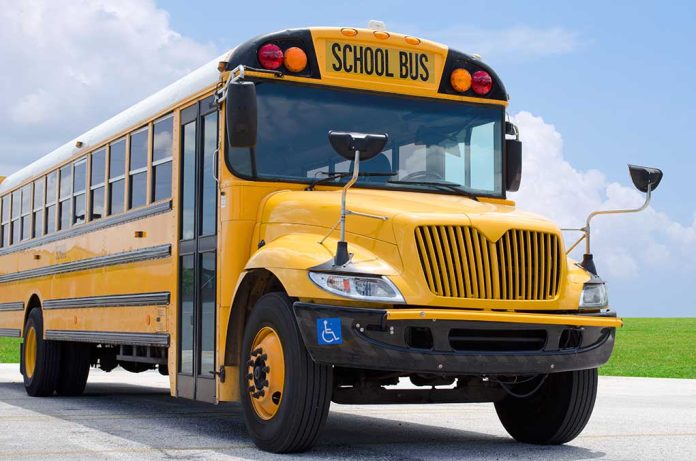 (LibertySons.org) – A young girl was the victim of a recent attack on a school bus. Video surveillance shows that despite an adult presence and several other children on the bus, no one intervened to stop the brutal beating. Now, the mother is taking action and pressing charges against the assailants.
A concerned mother in Southern Florida recently spoke with WPLG Local 10 News about a social media video showing two kids assaulting her 9-year-old daughter on a school bus. The mom, who wished to remain anonymous, told the station she was sent the footage of the older students attacking her child.
The video shows an argument breaking out among a group of children. Then suddenly, a student begins attacking the girl before a second older kid jumps in and starts beating the young child as well. The pair landed several blows on the little girl, many of them to her head and neck. Both assailants appear to be boys.
DISTURBING VIDEO: A South Florida mother says she is pressing charges against the children who were captured on camera beating her 9-year-old daughter on the school bus. https://t.co/Fv5sAe4Kep

— WPLG Local 10 News (@WPLGLocal10) February 2, 2023
The woman noted the bus contained kids of all ages and was over capacity. She also stated that two adults were present at the time of the attack, the bus driver and an aide, but neither stepped in to help her daughter. While it's not her intention to incriminate the other children, the mother said she would be pressing charges as she struggles to convince the school to hire security officers to protect kids and prevent something like this from happening again.
A Miami-Dade County Public Schools representative told WPLG that it was aware of the video and confirmed the Miami-Dade Schools Police arrested the offender.
Additionally, the district representative stated that the other students participating in the assault would also face punishment, adding officials would determine whether the adult nearest to the altercation would face any disciplinary action once it completes an internal investigation into the incident.
~Here's to Our Liberty!
Copyright 2023, LibertySons.org