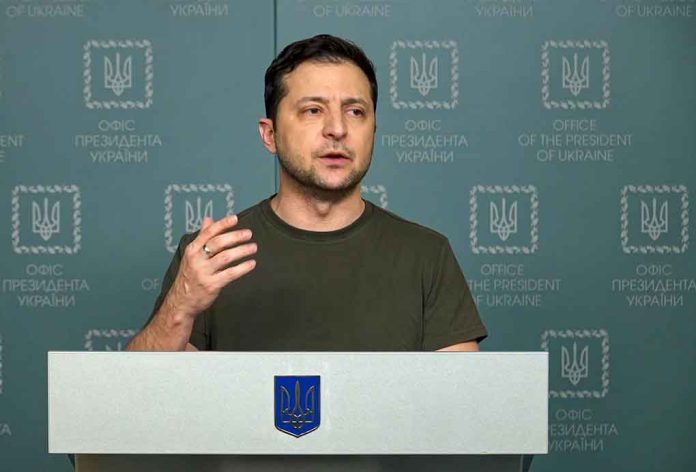 Zelenskyy Makes SURPRISE Visit – A Bold Act…
(LibertySons.org) – On September 14, Ukrainian President Volodymyr Zelenskyy visited Izium in the northern region of his country. He was part of a flag-raising, which served to hoist the nation's emblem above the city as a sign that the once Russian-occupied area was no longer under the enemy's thumb. The leader praised his troops and thanked them for their hard work taking back the territories.
Ukrainian President Volodymyr Zelenskyy visited the recently retaken city of Izium on Wednesday, greeting soldiers and thanking them for their efforts in retaking the area, as the Ukrainian flag was raised in front of the burned-out city hall building.https://t.co/wEC9AHL3FN

— Newsmax (@newsmax) September 14, 2022
The reclaiming of Izium was part of a defensive move by the Ukrainian military to push the Russians out of the Kharkiv region. The soldiers gained ground after receiving supplies from the West that allowed them to refill depleted ammunition stockpiles and add to weapon reserves. The boost gave them the edge they needed to get a leg up on the Kremlin forces.
Izium was a location of heavy fighting. What remains is devastation, mostly burned-out buildings and rubble, due to attacks. There were signs the opposing troops left in haste, as usable vehicles, equipment, and weapons dotted the landscape. The city was an important hub for supply flow, which means the Russians now lack that critical connection.
President Zelenskyy remarked that the scene is the same in many liberated areas. He mentioned Bucha, which enemy forces left in March, noting the bodies littering the streets, mass graves, signs of torture, and widespread destruction. The Ukrainian commander tried comforting his people by saying the military was now there to protect and support them.
~Here's to Our Liberty!
Copyright 2022, LibertySons.org