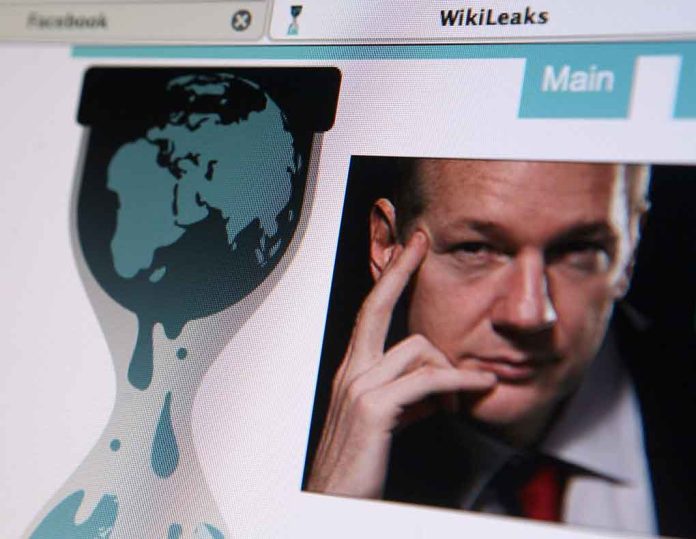 Wikileaks Founder Notified – The Courts Have Decided
(LibertySons.org) – It looks like Wikileaks founder Julian Assange will likely head to the United States to face the music for his alleged crimes. After spending years in an Ecuadorian embassy and another stint in a UK jail cell, British courts and Home Secretary Priti Patel gave the okay to send the accused whistleblower packing.
A Long Road
Julian Assange's story is well known. After leaking hundreds of thousands of classified US government documents, the Australian-born publisher and political activist went into hiding in plain sight. He asked the Ecuadorians for asylum and spent seven years in the country, reportedly costing them hundreds of thousands of dollars, which ultimately ended with the embassy expelling him as an unwanted guest.
From there, Assange went directly to a UK jail cell, where he worked the legal system to the best of his ability and gaining audience with the British Supreme Court. The UK courts deemed his extradition fair and lawful. Patel signed off on the move after receiving assurances from the US government about the alleged leaker's likely treatment in its custody.
His Time May Be Near
Assange fled justice in 2010. Initially, the Swedish government attempted to arrest him on sexual assault charges; a move Assange criticized as a pretext for extradition to the US. He showed up at the doorstep of the Ecuadorian embassy in London in August of 2012, meaning he has evaded the American justice system for nearly an entire decade, and he promises to continue fighting for his freedom.
In the US, his plight isn't completely one-sided. While some believe Assange's alleged espionage was a serious breach of national security, others, including several prominent and influential news outlets, decried the government's decision to charge him. In fact, they cited First Amendment concerns. As a journalist and publisher, the right to expression and freedom of the press will undoubtedly come into question.
What Comes Next?
Assange has a 14-day window to appeal, so he'll most likely get another shot at arguing to the British high court that extradition would be wrong. His brother, Gabriel Shipton, plans to offer new evidence to the court that the American CIA conspired to assassinate his sibling and spied on his legal team. One of the main functions of the court for an extradition hearing is to assure that the country seeking custody won't execute the prisoner if convicted. While Assange doesn't stand accused of a capital crime, his lawyers will likely argue the US seeks to kill him anyway.
If he loses his last battle and the court denies his petition, the UK will transfer him to the US to face charges. If found guilty, he may never see the outside of a jail cell again.
~Here's to Our Liberty!
Copyright 2022, LibertySons.org