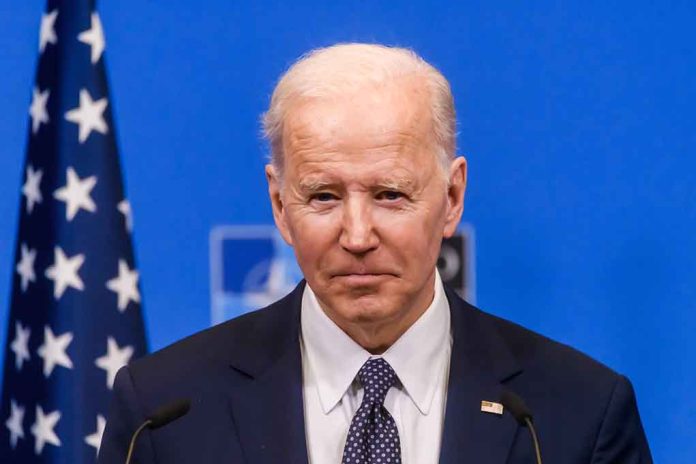 (LibertySons.org) – Former President Donald Trump's recent indictment and other legal woes have caught the attention of most Americans. Despite the justice system going into uncharted territory, with Trump being the first former president to face criminal charges, the current administration doesn't feel a need to pay attention to the situation.
On April 4, White House press secretary Karine Jean-Pierre kicked off her daily briefing as the former president arrived at the Manhattan courthouse to surrender himself for arraignment. Throughout the course of the press conference, several reporters attempted to ask Jean-Pierre for updates about Trump's court case, but she consistently shot them down.
Jean-Pierre told reporters that the former president's legal proceedings weren't a concern of the administration, adding that Biden would be focusing on Americans "like he does every day." The press secretary also noted that the president would stay informed regardless of intent due to the case surrounding Trump getting air time on nearly every network.
White House: Biden's attention isn't on Trump's arraignment https://t.co/MzplMbCovO pic.twitter.com/G4OAs70QWI

— The Hill (@thehill) April 5, 2023
Peter Doocy of Fox News, who remains a thorn in the administration's side, asked the press secretary why she didn't have more to add, noting that Trump is the only thing people are talking about across the country. Jean-Pierre again didn't offer much of an answer, falling back on the fact it's an ongoing case. She also repeated her earlier assertion that the White House wouldn't be commenting on the situation.
Michael Shear of The New York Times blasted the administration, stating that it provided updates about the January 6 case. Jean-Pierre responded that it was a "different moment and a different time." The press secretary also claimed the January 6 case was historic in scope. The New York Times reporter countered, reminding the press secretary that the arraignment of a former president was also a historic moment for the nation.
~Here's to Our Liberty!
Copyright 2023, LibertySons.org