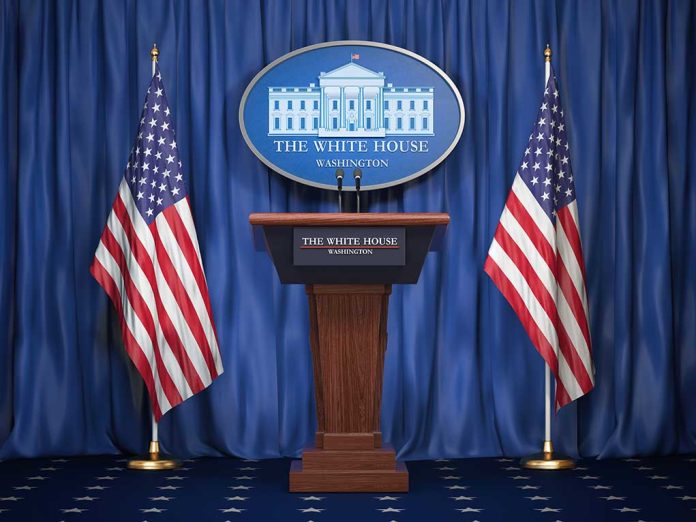 (LibertySons.org) – White House Press Secretary Karine Jean-Pierre took various hard-hitting questions during her December 19 press briefing. She talked briefly about Hanukkah and the Jewish community before opening to questions from reporters. When the topic jumped to Title 42 and what the lift would mean for the southern border, her responses got her into hot water with conservatives.
The Briefing and Title 42
After much pressing on how the White House will handle the anticipated disaster if the order lifts, Jean-Pierre stressed that lifting Title 42 does not mean an open border. She noted anyone insisting the opposite is helping smugglers who spread disinformation to "take advantage" of desperate people waiting to cross.
She explained the Department of Homeland Security (DHS) has "robust planning efforts underway" to handle any surges at the border. But she was adamant about needing more money from Congress to carry them out, noting Biden asked for $3.5 billion.
Jean-Pierre talked about how DHS is preparing by boosting its number of agents to 23,000, increasing technology, and adding more holding facilities. However, the press secretary kept mentioning that they need more funding to maintain order at the border and continue what the agency is already doing.
When explicitly asked about the anticipated surge of immigrants trying to cross the border if the measure lifts, Jean-Pierre claimed Title 8 would help pick up when Title 42 ended.
Responses to Jean-Pierre's Statements
Many conservatives on Twitter weren't buying the press secretary's denial of an open border or that the Biden administration has everything under control.
Pradheep J. Shanker of the National Review said the press secretary was "gaslighting" and indicated the border couldn't be any more open. US Representative Dan Crenshaw (R-TX) called the denial of an open border a "bold-faced lie." Podcast host Buck Sexton noted only those at the White House and their supporters who would ever believe such claims.
Title 42 Background
Title 42 is a US Code that allows for the swift expulsion of migrants, even those seeking asylum, in the interest of preventing the spread of disease during a public health emergency. The Trump administration evoked it to protect the US during the COVID-19 pandemic. The Centers for Disease Control and Prevention (CDC) originally announced the order would end on May 23.
Multiple states filed a lawsuit to prevent the lifting. On May 20, US District Judge Robert R. Summerhays halted the plans to end the initiative until the cases were through the courts. Then, an order from US District Court Judge Emmet Sullivan in November, which noted the CDC was not properly implementing the law, set the measure to end on December 21.
At the last minute, US Supreme Court Chief Justice John Roberts ordered a stay on lifting the title on December 20, keeping the practice in place for now.
~Here's to Our Liberty!
Copyright 2022, LibertySons.org