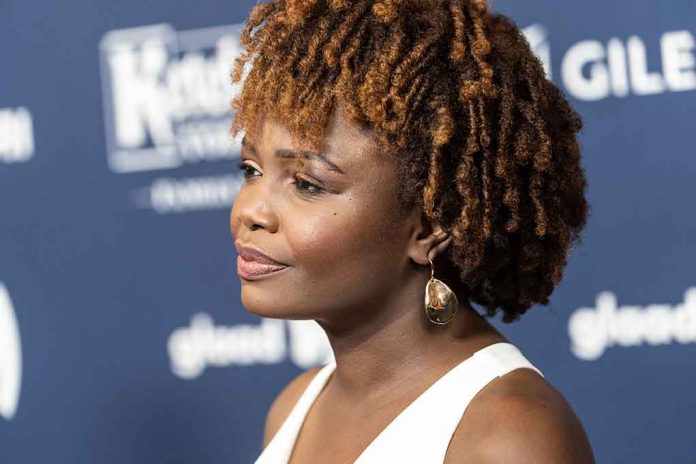 Karine Jean-Pierre Insists Biden Has Visited Border Despite No Record
(LibertySons.org) – The southern border crisis has been a contentious issue between the Biden administration and the GOP. The president has continuously skirted questions about when he might visit the source of the issue. It seems White House Press Secretary Karine Jean-Pierre added to the tension by possibly lying to reporters about President Joe Biden's presence at the border.
White House press secretary Karine Jean-Pierre insisted Wednesday that President Biden has been to the border, despite him having not visited since becoming president. https://t.co/MgKtwJumjk

— The Pug (@thepugnews) December 1, 2022
On November 29, House Minority Leader Kevin McCarthy (R-CA) met with Biden and other top members of Congress at the White House, when he asked the US leader to accompany him to the border. It was unclear whether he received an answer.
During a press briefing, the next day, Fox News reporter Peter Doocy asked Jean-Pierre whether the president had taken McCarthy up on his offer. After some pressing, the secretary stated, "he's been to the border." Doocy countered by asking when this had happened.
Instead of answering, Jean-Pierre launched into a boastful speech about how Biden has focused on fixing immigration issues since his first day in office. Before wrapping up, the press secretary took a moment to disparage Republicans, saying they have been unwilling to work with the White House to address the border problem and accused them of doing "political stunts."
But Jean-Pierre may not be entirely to blame for the false narrative as Biden publicly claimed in 2021 to have been to the Mexican border. At that time, The Washington Post ran a fact check and could not find a documented instance where the president had visited the region. In fact, the only potential visit was just a drive past the area in 2008, while he was campaigning.
~Here's to Our Liberty!
Copyright 2022, LibertySons.org