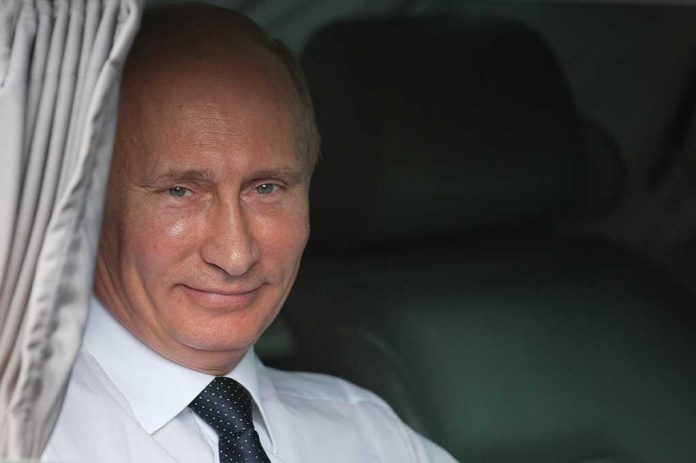 (LibertySons.org) – Citizens in Ukraine recently woke up to quite the surprise when President Joe Biden decided to visit the embattled country on February 20. The trip was a strong move by the president. However, recent revelations have taken away the glamor of Biden's visit to Ukraine.
Biden joined President Volodymyr Zelenskyy for a stroll through the country's capital of Kyiv. An air raid siren went off as the two presidents walked and talked. Oddly enough, no one seemed concerned and seemingly ignored the alarm. The moment has been a subject of debate as some claim the sirens were fake and used as a dramatic effect. Meanwhile, others claim the threat was real.
According to several outlets, National Security Advisor Jake Sullivan told reporters the White House called Russia ahead of Biden's trip to Ukraine, claiming it was for "de-confliction purposes." The phone call took place just hours before the president departed for Ukraine. Sullivan didn't offer any other details about the phone call or the trip.
The White House warned the Kremlin of Biden's visit to Ukraine ahead of his arrival. https://t.co/03MnMMQJ8o

— The Post Millennial (@TPostMillennial) February 21, 2023
The New York Times reported that Biden departed DC aboard an Air Force C-32, a much smaller plane than the typical Boeing 747 used for international flights, at around 4:15 am. The president landed in Germany to allow the plane to refuel and then took off again, eventually landing in Poland. From there, Biden boarded a train for a 10-hour trip to Ukraine's capital.
Sullivan said the president's visit to Kyiv wasn't a celebration but was to send a statement that the Biden administration would remain committed to helping Ukraine through these challenging times. The National Security Advisor also predicted there would be dark days in the future.
During his visit to the wartorn country, the president announced the US would send an additional $500 million worth of resources and equipment to aid Ukraine in its fight against Russia. The new wave of support comes after the US has supplied the country with billions of dollars worth of support.
~Here's to Our Liberty!
Copyright 2023, LibertySons.org