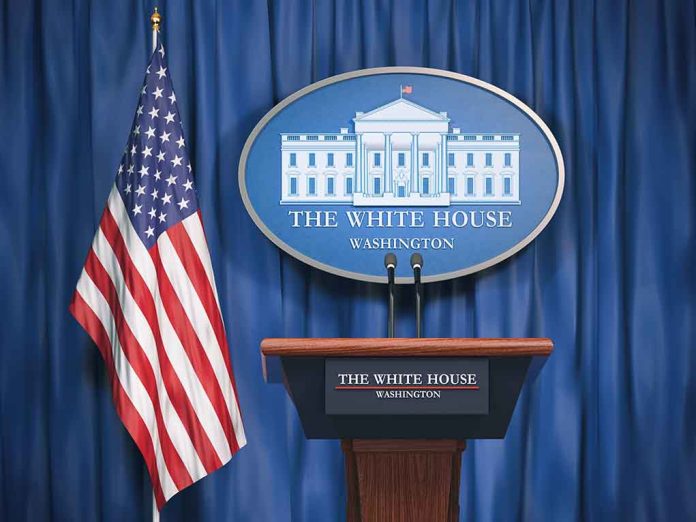 (LibertySons.org) – White House officials recently blacklisted the New York Post from attending a press conference with President Joe Biden, effectively barring the news organization from being able to ask questions and cover the presser without relying on press pool reporters. As one might expect by now, the White House didn't provide a reason for its decision to bar the news agency, raising more than a few eyebrows.
On May 8, the New York Post published an article discussing its exclusion from Biden's only daytime event earlier that day. The news organization had submitted the usual "credential request" to attend, but White House officials advised they would not approve it. They also failed to advise the Post why it decided to refuse the request.
As a result, the New York Post's reporter had to observe the press conference using a live stream. Curiously, about 20 of the 50 available seats were empty during the president's presser. Biden also refused to take any questions from the journalists attending the event.
White House Bars NY Post From Biden Event https://t.co/x1vetKIo0T

— toddstarnes (@toddstarnes) May 9, 2023
The strained relationship between the Biden administration and the New York Post traces back to the publication's coverage of Hunter Biden's laptop story during the 2020 presidential cycle. The Post broke the story, which raised serious questions regarding the first son's overseas business deals.
The White House recently implemented a rigid and mysterious process of prescreening reporters, raising concerns as it appears officials are attempting to control which reporters can attend presidential events and which to exclude. While the White House has not provided a clear explanation for the implementation of the new system, critics argue that it sets a troubling precedent regarding journalists' access to the president and constitutionally protected freedom of the press.
As the legal investigations progress and the debate over press access unfolds, Biden has been attempting to steer media coverage toward policy successes and not the many scandals surrounding him and his family. Yet, those matters continue to interest the American public as the nation quickly moves toward the 2024 campaign cycle.
~Here's to Our Liberty!
Copyright 2023, LibertySons.org