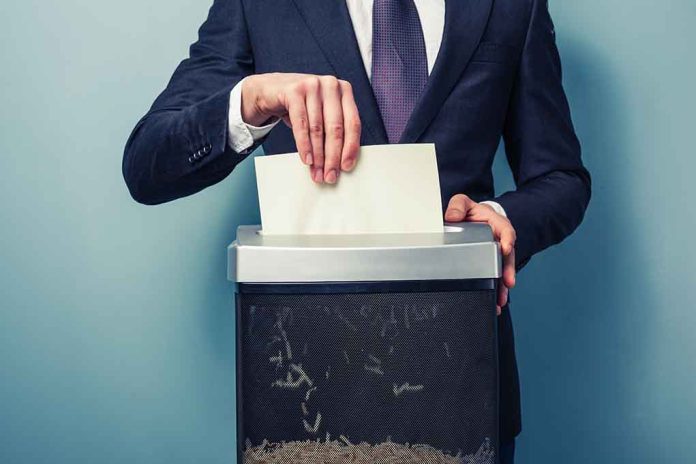 (LibertySons.org) – It's been over a year since the 2020 presidential election. Yet, many still have concerns about voter misconduct and fraud. In Pennsylvania, one of the most hotly contested key states, rumors continue to swirl about illegitimate results. A new claim from a Delaware County whistleblower, who claims a series of videos prove corruption, serves as some of the most substantial evidence to date.
A Look at the Videos
The anonymous whistleblower shared a total of three cell phone videos. Lawyer and author Margot Cleveland, who also serves as an adjunct professor for the University of Notre Dame, published the videos on Twitter on November 17.
The first video shows Director of Elections Operations James Allen and Jim Savage talking about throwing out pads and scanners. Both acknowledge such actions amount to a felony.
BREAKING: Whistleblower in Delaware County, PA with evidence of destruction of election data and equipment. pic.twitter.com/pmGgf8IoQD

— Margot Cleveland (@ProfMJCleveland) November 18, 2021
In the second video, Delaware County attorney Tom Gallagher talks with a man identified as "Ziggy" and the whistleblowing worker. Ziggy and Gallagher throw away voting machine tapes as they speak. They claim the destruction is an effort to avoid scrutiny in future audits.
More from the whistleblower. pic.twitter.com/ntSv0O73lG

— Margot Cleveland (@ProfMJCleveland) November 18, 2021
The whistleblower also questions why they need to rip up the tapes. Gallagher replies that he doesn't want anyone to see them in the trash, insinuating that he plans to burn them after that initial destruction.
The last video again features poll worker Ziggy and the whistleblower. The two men talk at length about the now-disposed-of tapes. Ziggy points out evidence and says, "let them figure it out." The whistleblower then questions why they were throwing the evidence out. Ziggy says they are unidentifiable.
Whistleblower video 3. pic.twitter.com/V4BTuVCy68

— Margot Cleveland (@ProfMJCleveland) November 18, 2021
The whistleblower mentions that the law requires election officials to store tapes for 22 months. Ziggy then admits to throwing them out but attempts to validate his actions by dismissing their value in future audits.
The video ends with images of thrown-away tapes and other evidence that workers and officials allegedly destroyed to defy the Right to Know request.
Right to Know
The Pennsylvania Right to Know law allows the public to request access to documents from government bodies. Someone filed a Right to Know request over the 2020 election back in May; they wanted access to Delaware County's records.
The whistleblower maintains the actions in the videos all happened in response to that May request. He also feels the short clips prove workers and officials defied guidelines and ultimately interfered with election integrity.
Pennsylvania has struggled with election integrity. Even before 2020, there were speculations that the state was highly likely to have voting disputes and challenges. And, with this video evidence coming to light, there is an obvious need for further investigation.
~Here's to Our Liberty!
Copyright 2021, LibertySons.org