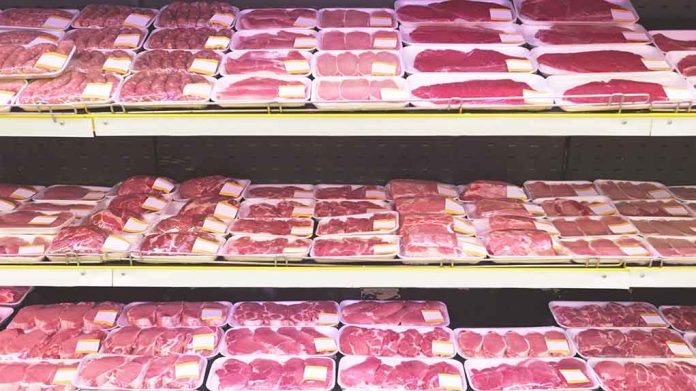 (LibertySons.org) – Fans of hamburgers, meatloaf, and meatballs must heed an important warning this week. Walmart and Kroger recently announced a massive recall on beef products that stands to impact many shoppers. Here's what you need to know to stay safe and take action.
The Walmart Beef Stick Recall
The US Food Safety and Inspection Service (FSIS) announced on January 8 a recall on about 14,976 pounds of beef sticks sold nationwide at various retailers. Abbyland Foods, Inc of Abbotsford, Wisconsin, manufactures the products involved.
The FSIS says the beef sticks are misbranded and contain undeclared allergens, including milk, which could cause problems for people with lactose intolerance. While they did not confirm any reports of injuries thus far, risks include adverse effects such as anaphylaxis, shock, and death.
Abbyland Foods contacted the FSIS after receiving complaints from consumers who found cheese in beef sticks produced from November 15 to November 17, 2021.
Affected items come in 2-pound clear packaging with the label "Iowa Smokehouse Original Smoked Beef Sticks" and have a sell-by date from November 15 to November 17, 2022. They also feature the establishment number 1633B; find it just below the sell-by date.
The FSIS says consumers should throw the beef sticks out or return them to the store. Anyone with questions or concerns about the recall can contact Paul Hess from Abbyland Foods Inc at (715)223-6386 ext. 7813.
The Kroger Ground Beef Recall
This latest Walmart recall comes in the wake of the January 6 announcement that about 28,356 pounds of ground beef were contaminated with E. coli. Interstate Meat Dist, Inc. of Clackamas, Oregon, produced the product on December 20 and sold it at Kroger's Fred Meyer stores in Arizona, California, Nevada, Oregon, Utah, Washington, and Wyoming.
Items involved in that recall include 1-pound and 3-pound packages of 93% ground beef marked with UPCs 11110-97977 or 11110-97975. They also feature a use or freeze-by date of January 11, 2022, and the EST number 965. You can find the EST just inside the USDA mark of inspection or next to the use-by date.
The FSIS became aware of the December contamination issue after an independent inspection of the product revealed the presence of E.coli bacteria. Exposure to toxins produced by the germ may cause intestinal problems and eventually lead to kidney failure.
FSIS says consumers should throw out the product in this instance, too, or return it to the store. Anyone with concerns or questions can contact Interstate Meat Distributor at (503)565-6168.
Consumers can also find additional information about both the Walmart and Kroger recalls on the FSIS website. In addition, each of the retailers involved is also providing information on their respective website recall pages.
~Here's to Our Liberty!
Copyright 2022, LibertySons.org