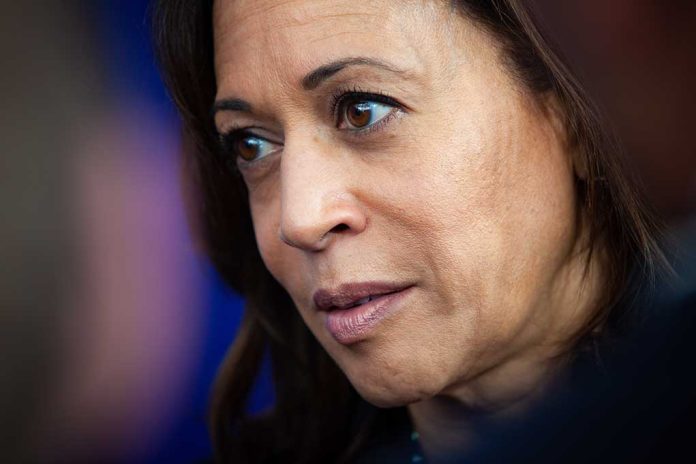 (LibertySons.org) – Fox News recently posted a resurfaced video of Vice President Kamala Harris praising Marilyn Mosby, the former state's attorney for Baltimore City, at a campaign event in June 2018. Harris displays her trust in Mosby's talents and discusses the need to improve the criminal justice system in the clip. But now that trust and her relationship with the former state's attorney could come back to bite her.
Mosby is currently on trial for fraud and perjury offenses. If the court finds her guilty, she could spend up to 30 years in prison for fraud and five years behind bars for perjury. The accusations stem from claims that Mosby withdrew $90,000 from her retirement accounts under the guise of pandemic related financial hardship and used the money to make down payments on two Florida vacation homes.
FLASHBACK: In 2018, Kamala Harris heaped praise on Former Baltimore City State's Attorney Marilyn Mosby saying she "cannot fail and I know she will not fail." https://t.co/CXtW5Eh6QS pic.twitter.com/PkSp4vZ4Ew

— Steve Guest (@SteveGuest) March 1, 2023
Authorities also charged her with fabricating information on mortgage applications by concealing outstanding federal taxes. Mosby entered a not-guilty plea to each of the charges against her.
Making matters worse, Mosby's entire defense team resigned last month, further prolonging the trial, which has already been postponed several times. Jury selection is scheduled to begin on October 31, and the court has moved the trial to begin on November 2.
Mosby served two terms as Baltimore's state's attorney from January 8, 2013, through January 3, 2023. Although she was unsuccessful in winning re-election during the Democratic primary, she expressed confidence in Baltimoreans' support as she worked to make the city more fair and safe in an Instagram post.
During her tenure, she attempted to prosecute the officers involved in the 2015 death of Freddie Gray, a Black man who died while in police custody. During Baltimore's 2020 lockdown, Mosby sparked controversy after she instructed her office to stop pursuing quality-of-life offenses, including drug possession and prostitution, to lessen the likelihood of outbreaks in jails and prisons.
~Here's to Our Liberty!
Copyright 2023, LibertySons.org