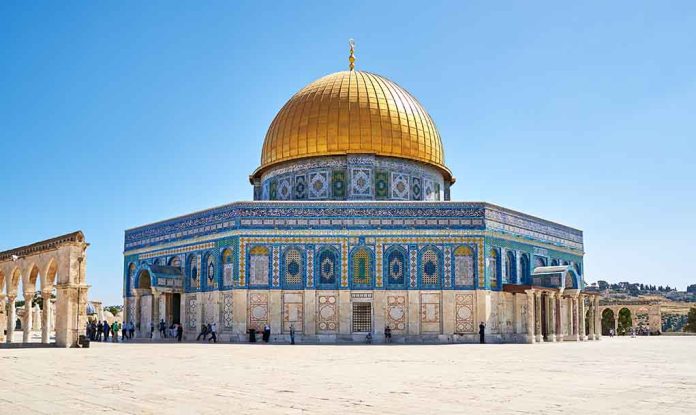 (LibertySons.org) – From April 19 to April 26, Acting Assistant Secretary for Near Eastern Affairs Yael Lempert and Deputy Assistant Secretary for Israeli and Palestinian Affairs Hady Amr will visit Jordon, Israel, the West Bank, and Egypt. The goal of the trip is to help combat violence in the region and reduce the underlying tensions between groups along the West Bank and Gaza. The meetings are proof the White House has growing concerns about issues in the Middle East.
The Background
The tension over territorial control between the Israelis and Palestinians dates back decades, but until recently, things were rather calm. The Council on Foreign Relations explains that in October 2020, a ruling from an Israeli court renewed violence between the Israelis and Palestinians. The incident involved the judge removing a Palestinian family from their home in favor of new Jewish occupants. Protests erupted over the unfairness of removing Palestinians from their homes.
In May 2021, the court upheld the ruling, which caused more demonstrations. Tensions escalated with the Israeli police fighting protestors. Eventually, Hamas, a Palestinian militant group, along with others, started attacking the Israeli region with rockets. Israel retaliated with airstrikes and bombings. In the end, the groups agreed to stop the violence, leading to a lull in activity for almost a year.
The Current Situation
Despite the ceasefire, the situation is still volatile. Repeat incidents of violence in recent weeks have sparked growing concerns about a bigger conflict erupting.
The latest development was a military strike on the Hamas camps on April 18. According to Reuters, Israeli troops attacked after shooting down a rocket coming from a location in the Gaza Strip. Hamas didn't claim they launched the projectile, despite earlier threats to retaliate against an Israeli police raid at the al-Aqsa Mosque on April 15.
This event came after weeks of incidents between the two groups, with casualties reported on both sides, including 14 deaths.
The US Reaction
Axios reported before deciding to send Lempert and Amr, Secretary of State Tony Blinken held phone meetings with leaders in the region, including Palestinian President Mahmoud Abbas, Jordan's Foreign Minister Ayman Safadi, and Israel's Foreign Minister Yair Lapid. He spoke about the need to end the violence and for all sides to work together toward peace in the region.
Abbas accused Israel of not honoring historical agreements. He promised consequences for ongoing invasions of cities and villages in his country.
Lapid committed to finding peace for all religions in the area. He said the reactions of his police force are reasonable and careful. He also stressed that international support is crucial to ending the conflicts in Jerusalem.
With such long-festering issues between Israel and Palestine, is peace possible? Will the visit from US officials do anything to help end the recent outbreak of violence?
~Here's to Our Liberty!
Copyright 2022, LibertySons.org