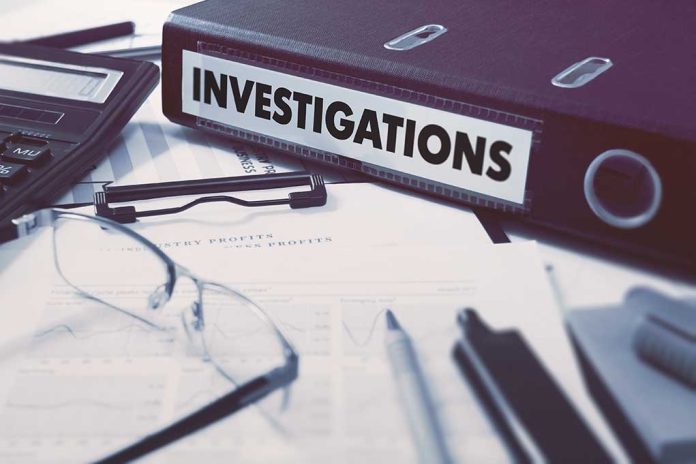 (LibertySons.org) – An Ohio senator is demanding answers on the February 3 East Palestine, Ohio train disaster, which has left many residents worried about chemical contamination. The Environmental Protection Agency (EPA) is monitoring the area, and so far, they say it's safe to be there, but many questions still need answers. For example, why did this accident happen, and will there be long-term consequences?
On February 13, Senator JD Vance (R-OH) released a statement on the Norfolk Southern derailment, which saw 50 cars –- 20 of them loaded with industrial chemicals –- come off the rails near the Ohio-Pennsylvania border. Five of the cars were later deliberately punctured, and their contents drained into a ditch, where they were burned off; authorities said this was necessary to avoid the risk of an explosion that could have sprayed the village of East Palestine with lethal shrapnel. However, the controlled burn released a huge plume of black smoke, which experts say contained toxic hydrogen chloride and phosgene.
Senator JD Vance vowed to get to the bottom of the train derailment and chemical burn that took place in East Palestine, Ohio. https://t.co/Zn3blKgzVu

— The Post Millennial (@TPostMillennial) February 14, 2023
Vance's statement highlighted the "frightening" plumes of smoke, then questioned whether air and drinking water in the area is safe. The EPA and National Guard say they are –- but, the senator added, he's "heard alarming anecdotes" about water pollution and affected wildlife. Now he's asking anyone with "credible reports of environmental harm" to contact his office, as well as urging state and federal authorities to commit to monitoring the situation long-term. He also raised the issue of protective equipment; some firefighters who turned out for the derailment have had to borrow gear after their own got contaminated.
The senator also criticized Transportation Secretary Pete Buttigieg, who gave a speech Monday and didn't mention the accident. Vance said there are many unanswered questions about the train that came off the rails and "the Transportation Department's regulatory approach to our nation's rail system." Buttigieg is responsible for that regulatory approach, and Vance doesn't seem too happy with how well he's doing his job.
~Here's to Our Liberty!
Copyright 2023, LibertySons.org