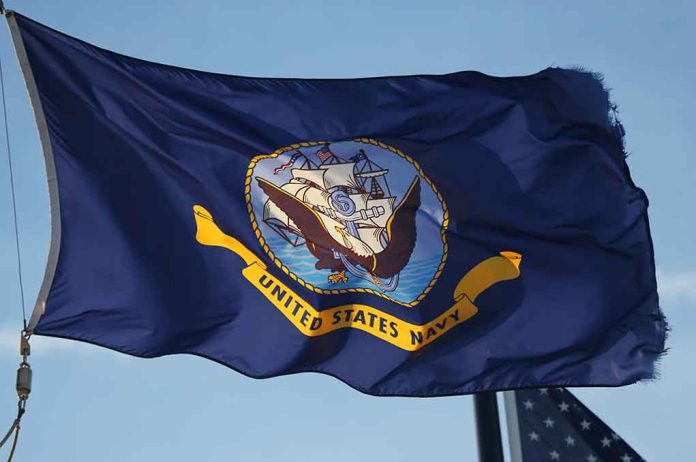 U.S. Navy's Vote Just Created A Problem – Pentagon Exposed?
(LibertySons.org) – During the COVID-19 pandemic, the US military enacted vaccine mandates for all branches. Many members faced discharge or forced retirement for refusing to get the jab. Navy Lieutenant Billy Moseley challenged the orders after facing an early retirement that authorities pushed on him due to noncompliance. His attorney announced in a press release on May 21 that he prevailed in his claim.
In rebuke to Pentagon, Navy board finds 3-0 for vax objector amid questions of mandate's lawfulness | Just The News "…the mandate for the experimental COVID vaccines was not a lawful order…"👏👏🙌🙌 https://t.co/u0Kkqq1VAT

— Carlene (@carlenezr) May 23, 2022
R. Davis Younts, Moseley's lawyer, stated the case went before a three-member board of Navy officers. They heard the argument that an order to take the non-FDA-approval COVID-19 vaccination was unlawful. The attorney argued that because the service did not provide an inoculation that had FDA approval, they could not force members to take it.
The board agreed with the attorney's arguments, ruling that Moseley was not guilty of misconduct and could continue his 22-year career in the US Navy. According to Just the News, the board's decision is binding.
Younts noted that Moseley could have requested a religious exemption, as that was his objection, but chose instead to fight the order on behalf of others in the military who faced the "blanket denial policy" set to be implemented by the Navy. He also proclaimed this was a "ground-breaking case" that he hopes will influence changes in policy.
~Here's to Our Liberty!
Copyright 2022, LibertySons.org