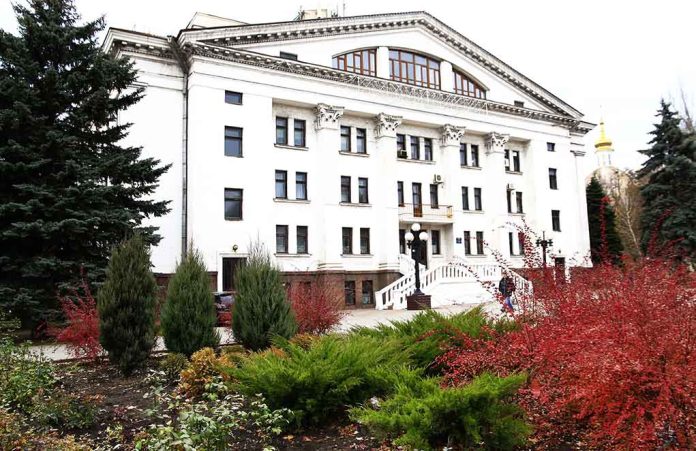 Popular Group Returns in Brave New Act…
(LibertySons.org) – Amnesty International called the Russian attack on the theater in Mariupol, Ukraine, a war crime, as the bombing injured and killed civilians seeking shelter. The attack also took away the home of the Academic Regional Drama Theater. But the company's performers were not about to let the tragedy steal their artistic gifts. In fact, they recently moved to another part of the country to begin rehearsal for a new show.
They lived through hell, saw their theater destroyed, and fled their city. One had to mourn not only his mother but the fact that he could not give her a proper burial. And now the actors of Mariupol's drama theater are going onstage again. @meganspecia https://t.co/Vtc7O3xBZu

— Valerie Hopkins (@VALERIEinNYT) July 1, 2022
Vira Lebedynska, an actress who was at the theater on the day of the bombing, said the walls crumbled, and people began screaming after a loud explosion. The woman hid in the basement and eventually fled to another town. All the members who survived faced their own horrors in the aftermath of the attack, including one man who couldn't properly bury his mother and had to leave her body on the sidewalk.
Despite the hundreds of deaths, 13 members of the theater survived the trauma, and they met up in Uzhhorod to begin work on a new play. They vowed not to let the destruction of the theater end the group's ability to tell stories through their performative art.
The talents are planning a play about a Ukrainian hero, Vasyl Stus, who died in a prison camp within the Soviet Union in 1985. He was a human rights activist and poet who faced prosecution for speaking out against Russia and trying to create Ukrainian literature. Opening night will occur sometime near the middle of July.
The group's determination is proof that even in the throes of war, good people can still prevail and share beauty with the world.
~Here's to Our Liberty!
Copyright 2022, LibertySons.org