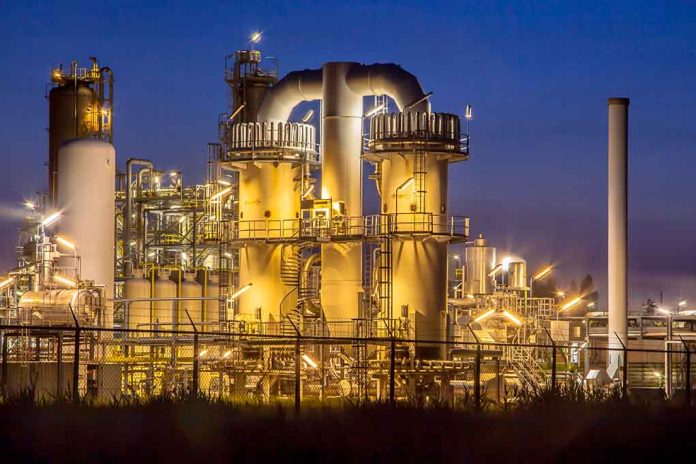 (LibertySons.org) – In the ongoing battle between Ukraine and Russia, the news of devastation keeps coming. The latest report was an airstrike from Russian troops on March 21 that hit a Ukrainian chemical plant. It caused an evacuation due to a deadly ammonia leak, potentially affecting hundreds of thousands of people.
Russians hit the Sumykhimprom chemical plant around 4 a.m. in Ukraine. Officials estimated the impacted area was about a three-mile radius. The Kyiv Independent reported residents in Sumy were safe, but those in Novoselytsya and Verkhnya Syrovatka were in the impact zone and needed to seek immediate shelter underground. Authorities also instructed the residents to breathe through dampened cloths.
⚡️Ammonia leaks from Sumy chemical plant. 

The governor of Sumy Oblast Dmytro Zhyvytsky said on March 21 that ammonia leaked from Sumykhimprom chemical plant at 4:30 a.m. local time as a result of Russian airstrike.

— The Kyiv Independent (@KyivIndependent) March 21, 2022
A Russian military spokesman rebuked responsibility. He claimed Ukraine planned the chemical leak as propaganda against the Kremlin.
Russia continually denies hitting populated areas or targeting civilians, but the chemical plant bombing occurred only hours after an attack on the Retroville shopping mall in Kyiv. Authorities reported at least eight people died.
On 21st March #RussianArmy destroyed the Retroville shopping mall in #Kyiv. At least 8 people are dead. Photos by #JekaKotenko/Sergey pic.twitter.com/qBRe8n01Nf

— KATAPULT Ukraine – КАТАПУЛЬТ Україна (@KatapultUkraine) March 22, 2022
The shopping center had just opened in early 2020. It was on the outskirts of the capital city. Officials believe it was a missile strike that hit in the late hours of March 20. Residents felt the rumbling from the impact throughout Kyiv.
~Here's to Our Liberty!
Copyright 2022, LibertySons.org