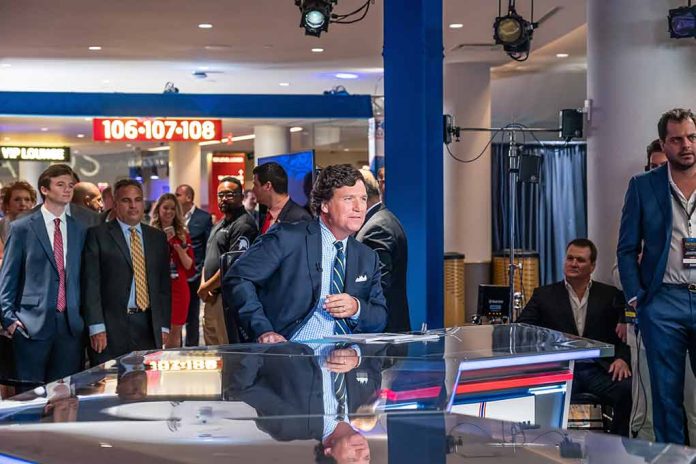 (LibertySons.org) – A group of conservatives recently formed the Draft Tucker Political Action Committee (PAC) to encourage former Fox News personality Tucker Carlson to run for the Republican presidential nomination after he and Fox News parted ways last month. Yet, the PAC faced a couple of seemingly insurmountable problems. First, Carlson had previously announced he had no intention of running for any office. Second, the PAC hadn't sought his permission to solicit donations using his name, likeness, or image. So Carlson did what any savvy American would do: He sent the PAC a cease and desist letter.
To be more precise, Carlson's very capable attorney, Harmeet Dhillon, whom he hired to represent him in an unrelated matter, sent the letter on Monday, May 22. In a copy of the letter obtained by Mediaite, Dhillon wrote that her client had become aware the PAC was " soliciting contributions and donor contact information" by telling the public it would use the funds "to draft Mr. Tucker to run for President in 2024."
New: Tucker Carlson sent a cease and desist to the "Draft Tucker PAC" pushing him to run in 2024.

"Mr. Carlson will not run for President in 2024 under any circumstances."https://t.co/qgJg2Kvbyj

— Aidan McLaughlin (@aidnmclaughlin) May 22, 2023
Dhillon wrote, "Mr. Carlson will not run for President in 2024 under any circumstances," and stated the PAC's "misrepresentations" damaged Mr. Carlson's reputation and constituted fraud against those who believed they were supporting him. She told the PAC, which had scheduled ads to run on Newsmax for an entire week, that unless it immediately quit its efforts to collect money to "draft" Carlson, she and her client would pursue every legal option against the entity and its officers.
Carlson has routinely denied ever considering running for office of any sort. Charlie Kolean, a GOP operative and the erstwhile executive director of the PAC, issued a statement, according to The Hill. He confirmed that Carlson's attorney had contacted the PAC and made clear he wasn't a presidential candidate and had no intentions of becoming one. He said the PAC would cease all solicitation activities as requested.
Dhillon confirmed to Newsweek that in response to her letter, Newsmax had pulled all the PAC's ads and that the PAC had decommissioned its Twitter account and an affiliated website.
~Here's to Our Liberty!
Copyright 2023, LibertySons.org