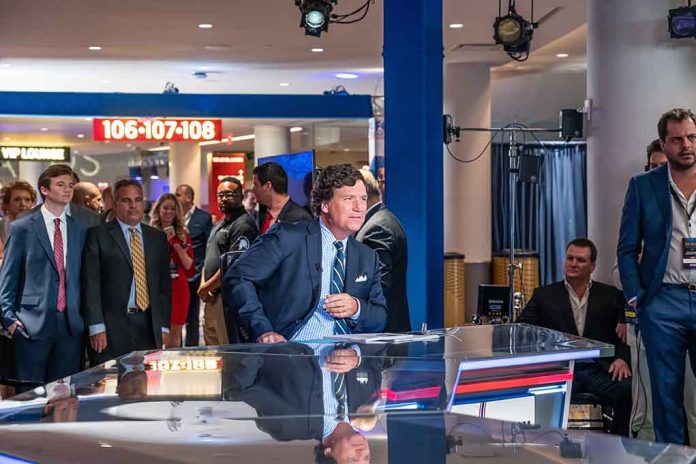 (LibertySons.org) – On April 24, Fox News issued a statement announcing that the network executives and Tucker Carlson had "agreed to part ways." However, the former host was surprised by Fox News' decision to cut his "Tucker Carlson Tonight" show, which also came as a shock to the rest of America. Carlson believes his termination may only be a single piece to a bigger puzzle.
According to Vanity Fair, Suzanne Scott, the CEO of Fox News, spoke with the host the morning before announcing his departure to inform him he no longer had a job. The news came as a shock to the man hosting cable TV's most-watched program. He had been expecting to extend his contract through 2029.
If Tucker Carlson is right, more wild news from Fox is still to come. https://t.co/7j4o4rOAZZ

— The Western Journal (@WestJournalism) April 25, 2023
According to the Los Angeles Times, the decision to fire Carlson came after Rupert Murdoch, the owner of Fox Corp, the network's parent company, spoke with the company's board and executives. The outlet speculated that the host's departure is related to a discrimination lawsuit that Abby Grossberg, who was fired from the network recently, filed against Fox.
The Washington Post published an article surmising that Carlson's termination resulted from a separate lawsuit. The network's decision to let the host go came less than a week after the conclusion of the lawsuit Dominion Voting Systems (DVS) filed against the network, which saw the company pay out $787.5 million to settle. DVS sued Fox for defamation after it aired claims that the voting system rigged the 2020 election to help Biden win, which has been proven false.
While Carlson maintains that he doesn't know the exact details of his termination, a source claims Scott only revealed that the decision to let the host go came from up top. The former host believes it may result from Murdoch appointing his son Lachlan Murdoch as CEO of Fox Corp. Carlson feels the new CEO and the owner's children intend to sell Fox News in the future.
~Here's to Our Liberty!
Copyright 2023, LibertySons.org