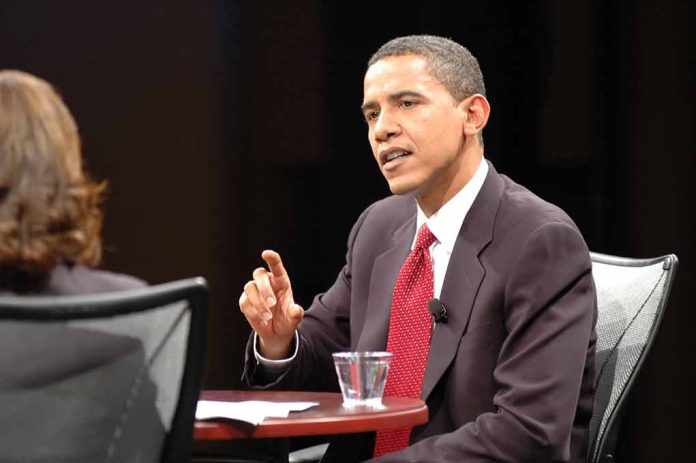 (LibertySons.org) – Larry Sinclair went to the National Press Club in Washington, DC, in 2007 with bombshell accusations about then-presidential candidate Barack Obama. He claimed he and the politician shared an intimate encounter and did cocaine together in the back of a limo in 1999. Media personality Tucker Carlson recently interviewed Sinclair to get his full story.
Sinclair alleges he met Obama while the politician was still serving as a member of the Illinois state Senate, but he had no idea who the man was when they first met. The interview guest stated that he had been in the area to attend a godson's Naval Academy graduation and had rented a limousine. He added that his godson wasn't able to go out after the ceremony, but he kept the limo anyway because he wanted to party. He asked the driver if he knew of anyone in the area who could help show him a good time, and the individual indicated that he did.
The driver reportedly pulled up in front of a bar, where Obama was waiting for them. Sinclair claims the two went inside for drinks, and he casually told the politician he wanted "something to wake up." Obama allegedly indicated that he did, and the two returned to the limo, which drove them to another location. Sinclair claims he gave the man $250, which Obama used to buy both powder and crack cocaine, adding that he personally snorted powder while the politician smoked crack. The alleged informant then reportedly performed oral sex on the congressman.
Carlson made a point to note that Sinclair signed an affidavit attesting to his statement and submitted to a lie detector test, leaving out the fact that his guest failed it. He accused the people grading his test of bribery, but other issues could also stand in the way of Sinclair's credibility. He has a criminal rap sheet that spans 27 years, according to POLITICO, with charges that include forgery, theft, and check fraud. While incarcerated, he faced disciplinary action 97 times for offenses ranging from drug possession to intimidation and assault.
Of course, Sinclair's criminal history doesn't immediately disqualify all of his claims. And if they're true, the former president's choice of acquaintances and activities might have much to be desired.
~Here's to Our Liberty!
Copyright 2023, LibertySons.org