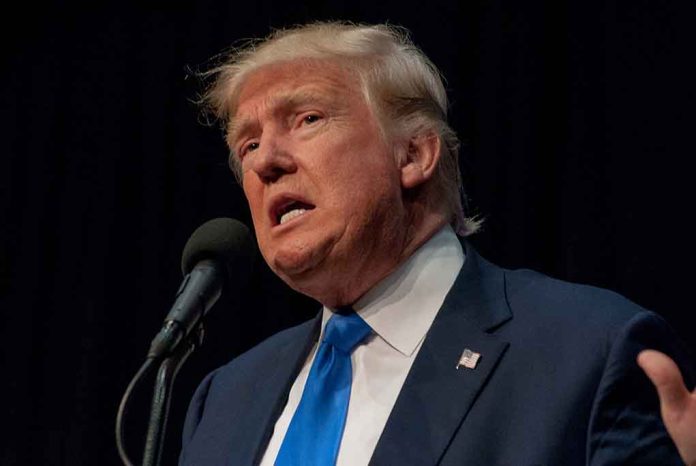 Trump's CIVIL WAR Warning Has Media Panicking
(LibertySons.org) – On May 21, former President Donald Trump retruthed a post on the TRUTH Social platform by user MAGA King Thanos on March 20 that caused an uproar. The original poster was sharing a screenshot from El Salvador President Nayib Bukele talking about the demise of the US economy, finishing with the additional comment saying "civil war." Many people took that as the former president supporting or instigating the idea of a civil war in the US.
Trump predicting and/or calling for a Second Civil War is just starting to hit the media—most of which is apparently asleep today. https://t.co/tDuj1IhG95

— Seth Abramson (@SethAbramson) May 22, 2022
Bukele's original comments were in response to a Bloomberg op-ed about inflation. He noted that the problem stemmed from people inside the country bringing it down. Many assumed MAGA King Thanos' comment was calling for a second civil war.
When Trump shared it, he faced backlash. The Meidas Touch Twitter account leveled accusations at him.
The disgraced, twice-impeached former president just shared a post from another user on his social media platform calling for Civil War. This is beyond dangerous.

— MeidasTouch.com (@MeidasTouch) May 22, 2022
Representative Adam Kinzinger (R-IL), a vocal anti-Trumper, also took to Twitter to voice his outrage.
Any of my fellow Republicans wanna speak out now? Or are we just wanting to get through "just one more election first…?" https://t.co/G6YXAC1qIb

— Adam Kinzinger🇺🇦🇺🇸✌️ (@AdamKinzinger) May 22, 2022
Other Trump critics shared their thoughts about the social media post. Representative Eric Swalwell (D-CA) tweeted an insult about the former president, saying he's calling for war when he wasn't "man enough" to fight in Vietnam or on January 6. Journalist Seth Abramson stated that "every American who loves this country needs to condemn Donald Trump."
Despite the vocal criticism, some people wonder if this situation is worth the upset. Is a social media share the same as saying something directly? Could it be a calculated act by the former president to stir up his opposition?
~Here's to Our Liberty!
Copyright 2022, LibertySons.org