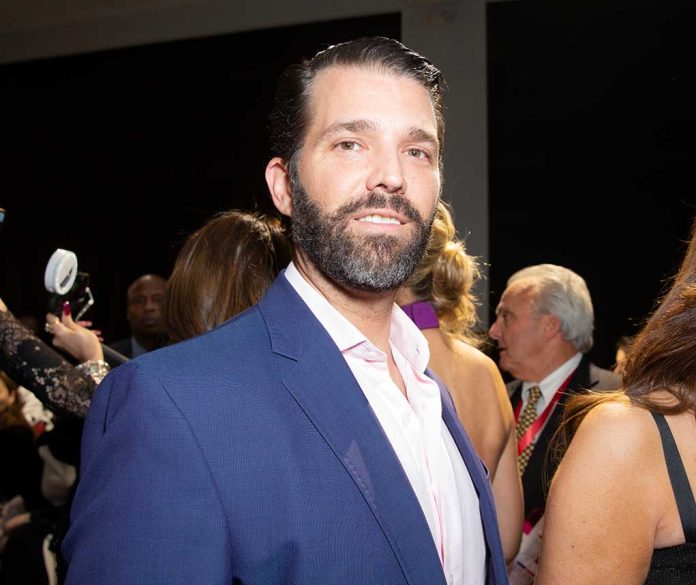 (LibertySons.org) – Former president Donald Trump has enjoyed deep, committed support from his family, especially his three eldest children. His namesake and firstborn, Donald Trump, Jr., has worked tirelessly promoting the Make America Great Again (MAGA) movement, touting conservative principles to working-class Americans. When Fox News dismissed Tucker Carlson, a star conservative voice and MAGA ally, Trump Jr. protested. Not long after, the former president's oldest son received disturbing intel: he should expect payback for supporting Carlson.
Fox News ousted Carlson on Monday, April 24, sending shock waves through the conservative media community. Neither the network nor Carlson has revealed the reasons for the split, but it came fast on the heels of a decision to settle a $787.5 million lawsuit brought by Dominion Voting Systems.
Trump Jr. expressed his shock at the media outlet's move, calling Carlson "a once-in-a-generation type talent" who challenged conformity and establishment norms and was unafraid to speak truth to power in an April 25 interview with Bill O'Reilly. The former president's son also spoke on a special edition of the "Steak for Breakfast" podcast on May 1, mentioning both Carlson and Dan Bongino, with whom Fox News parted ways on April 20.
Have heard from a few of my friends at Fox News that the leftist executives running things there are pissed at me for calling them out over firing Tucker and to "expect retaliation."

A lot of good people still work at Fox, but their RINO leadership is at war with conservatives!

— Donald Trump Jr. (@DonaldJTrumpJr) May 3, 2023
Trump Jr. specifically said, "there are no coincidences," and he believes "there's a cognizant effort" by the Left and weak RINO (Republican in Name Only) Republicans to take conservative voices "off the playing field." He illustrated his point by mentioning that although he used to appear on Fox News nearly weekly, the network has not asked him to appear in more than nine months.
A little later in the podcast, Trump Jr. told his interviewers it was almost as if Fox News executives wanted to make sure he didn't have access to a platform to reach conservative viewers. The MAGA organizer has made cancel culture a repetitive theme in recent speeches, including his CPAC address. In his Wednesday, May 3 tweet, Trump Jr. said friends still working at Fox News warned him he might be the target of the network's "leftists executives" seeking retribution over his comments about Carlson.
~Here's to Our Liberty!
Copyright 2023, LibertySons.org