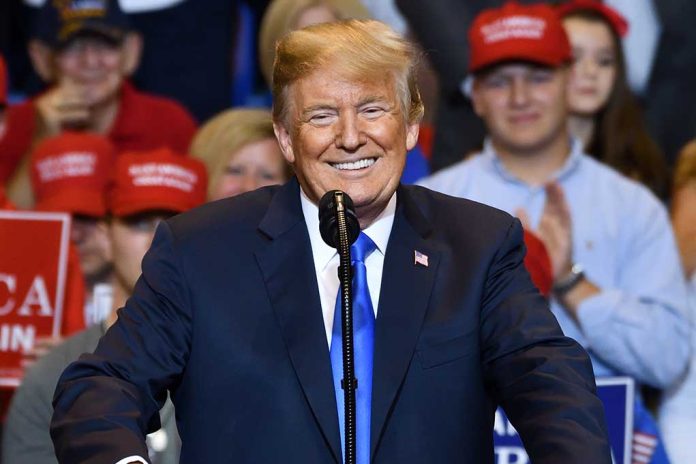 (LibertySons.org) – Two years into President Joe Biden's first term in the White House, Americans are anxiously awaiting the opportunity to pick a new leader for the United States. While former President Donald Trump is the only person to officially announce a 2024 bid, many people wonder if top GOP favorites like Florida Governor Ron DeSantis will throw their names in the mix. As Americans wait to see who challenges the 45th president, Democrats are growing more nervous about the strength behind Trump and his followers.
Trump's 2024 Campaign Kicks Off Soon
Trump's road to the White House has been marked with numerous accusations of disrespect, flippancy, and exaggeration since he first announced his campaign for the 2016 election. None stuck long enough to tarnish the former Hollywood star's reputation, and the attacks did nothing to keep him out of the presidency.
Now, years later, Trump is hoping he can rally his supporters again. His first official 2024 campaign appearance will take place in South Carolina, and Senator Lindsey Graham (R-SC) and Governor Henry McMaster will come alongside the former president during the event to show their support.
Former campaign manager and senior counselor to Trump, Kellyanne Conway, also warned Democrats not to write off the 45th president's campaign in a recent op-ed for The New York Times. She highlighted that Trump "endures persecution and eludes prosecution like no other public figure" and seems to have "nine lives" like a cat. She did admit, however, that assuming his campaign wouldn't be rocky would be "foolish."
Pollsters Try To Understand Support for Donald Trump
A poll from Morning Consult conducted from January 14 to 16 showed that 48% of respondents would pick Donald Trump in the Republican primary in a pool of 11 candidates. The survey spoke with 3,763 likely GOP primary voters and revealed that 31% of them would instead choose Ron DeSantis.
A different poll conducted by Suffolk University in Boston, Massachusetts, found that in a hypothetical matchup between Trump and Biden, the former president would lose 40% of the votes to the sitting president's 47%. However, if the faceoff were between DeSantis and Biden, 47% of voters would likely pick the Florida Governor, and only 43% would choose Biden.
Lastly, in a Harvard CAPS-Harris Poll given exclusively to The Hill, Trump was the clear favorite among respondents. He had 48% of the GOP vote, with just 28% wanting to see DeSantis win the primary.
Trump Pushes Forward for 2024
While Trump continues to campaign, the recent news might even be helping him. Some arguments against Trump running for president again involved his handling of classified documents. However, now that people have seen Biden committing a similar act, that argument falls flat. Using this momentum, clearly, no one can write off Donald Trump just yet.
~Here's to Our Liberty!
Copyright 2023, LibertySons.org