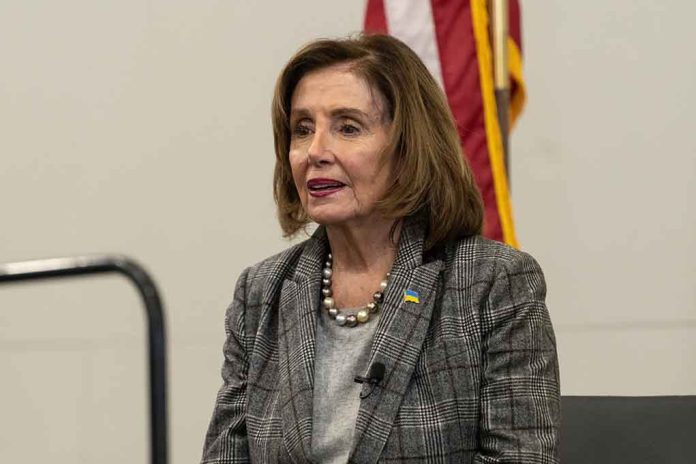 Pelosi Claims Trump Lacked "Courage" On Jan 6th
(LibertySons.org) – Speaker of the House Nancy Pelosi (D-CA) joined reporter Andrea Mitchell on October 18 for an interview on MSNBC's "Andrea Mitchell Reports." While they spoke about issues surrounding the election and other current political news, Mitchell also asked Pelosi about statements she made concerning her desire to physically attack former President Donald Trump on January 6, 2021. The speaker reiterated her stance, but added the previous US leader didn't even have the "courage" to come to the Capitol that day for her to follow through on her words.
Pelosi on whether she would've punched Trump on Jan. 6: He didn't have "the courage to come to the Hill" https://t.co/q7OS2qrets pic.twitter.com/prweFjwSbi

— The Hill (@thehill) October 19, 2022
In video footage shot by her daughter, Pelosi said she wished Trump would have shown up at the Capitol on January 6 because she would have punched him and felt good about it. Mitchell referenced this statement in the interview, asking the Speaker if she really would have confronted the president.
Pelosi doubled down on what she said, noting she would not have hesitated to do it. The Speaker said she would have happily gone to jail for the assault as well. She explained it was Trump's job to ensure his vice president, Mike Pence, was safe, which he failed to do, and it infuriated her.
The Speaker continued by saying her outrage was also over her claim that Republicans were trying to demolish democracy. She said protecting the country in the face of those viewpoints requires a serious response. Pelosi went as far as saying Trump sent the rioters to threaten to hang the vice president that day. She called the former president's role in what happened on January 6 "sinful."
~Here's to Our Liberty!
Copyright 2022, LibertySons.org