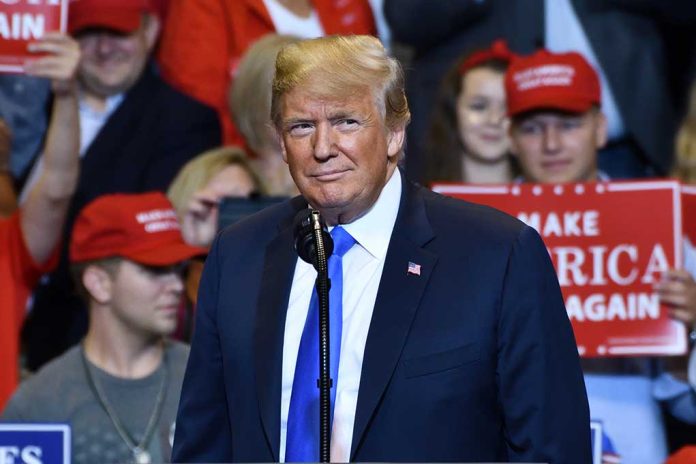 (LibertySons.org) – Former President Donald Trump doesn't typically disguise his feelings about opponents, colleagues, friends, or family members. So perhaps it should come as no surprise that he recently issued extremely forthcoming statements targeting a government agency. Yet, when former commander-in-chief posted on Truth Social on Monday, January 30, claiming he trusts Russian President Vladimir Putin over US Intelligence "lowlifes," many found the claim disturbing.
Trump referred to the 2018 Helsinki, Finland, summit with Putin, during which the former president asked the Russian leader whether the Kremlin had meddled in the 2016 election. At the time, Trump said he trusted Putin's answer that Russia had not interfered despite US intelligence reports indicating otherwise.
Donald Trump says he trusts Putin more than U.S. intelligence "lowlifes" https://t.co/TW0Yn06vox

— Newsweek (@Newsweek) January 30, 2023
Now, the FBI has unveiled the revelation that former FBI agent Charles McGonigal colluded with Russian oligarch Oleg Deripaska to remove US sanctions against the billionaire. While the FBI employed him as a cybersecurity chief, McGonigal supplied a key email leading to the opening of the "Crossfire Hurricane" FBI investigation into the Trump campaign. The Department of Justice ultimately assigned special counsel Robert Meuller to take over the investigation.
Trump asked his Truth Social readers whether they remembered the incident in Helsinki when a reporter asked him who he trusted more — Russian President Putin or, as Trump wrote, "our 'Intelligence' lowlifes."
Trump expanded, saying he believed the US intelligence community had several questionable individuals when the reporter asked the question, including James Comey, Andrew McCabe, John Brennan, Peter Strzok, and Lisa Page. The former president added, "Now add McGonigal & other slimes to the list. Who would you choose, Putin or these Misfits?"
Still, Trump had more to say. He told his social media readers on Truth Social that "Because of the Weaponization, Targeting, and Unprecedented Harassment," the former POTUS believes he has more attorneys working for him to resolve the issues caused by corrupt law enforcement agencies than any person in the nation's history, including "the late great gangster, Alphonse Capone!"
Trump reminded his loyal fans, "The Disinformation Specialists are at it again, full-time." He said his political enemies were targeting him for political reasons because he was leading everybody in the polls by significant margins.
~Here's to Our Liberty!
Copyright 2023, LibertySons.org