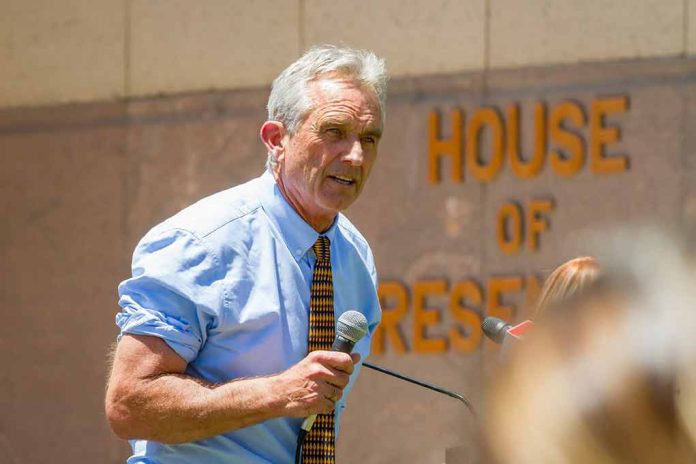 (LibertySons.org) – After months of deliberation, Robert F. Kennedy Jr. took the plunge and declared his candidacy for the Democratic presidential nomination on April 5, 2023. He became the fifth Kennedy to seek the presidency. When asked recently about RFK Jr. and the attacks he's suffering from mainstream media, former President Donald Trump praised the Democratic candidate as "a common sense guy" and empathized with him as a mainstream media target.
On Monday, June 26, Trump spoke with radio host Howie Carr on his self-titled show about his indictment, the situation in Russia, the possibility of a Merrick Garland impeachment, and Trump's advice for "Bobby" Kennedy. Trump, a frequent guest on Carr's show, told the host he had "a very nice relationship" with Kennedy "over the years." The former president characterized his acquaintance as a "very smart guy and a good guy."
Trump: Kennedy 'Good Man' ,
'Common Sense', 'Heart in the Right Place'… https://t.co/yTxSTMmftB pic.twitter.com/5NFO5wG3i5

— Grace Chong 🇺🇸 (@gc22gc) June 27, 2023
The former president seemed happy that a man whose "heart is in the right place" was doing so well in recent polls, placing second only to President Joe Biden. Trump said Kennedy, and he shared a lot, and he highlighted common sense as a quality that transcends party lines.
Trump met with Kennedy after winning the 2016 election. Kennedy described the meeting as a precursor to heading up a commission that would address health safety and scientific integrity, according to Mediaite. However, the former president's transition team pushed back on Kennedy's statement, clarifying that discussions revolved around possibly forming a commission on Autism.
Real Clear Politics reported that Trump ally Steve Bannon also vocally supported Kennedy's aspirations for the White House in a recent episode of Bannon's War Room. He said he believed Kennedy was making inroads with voters because he was unafraid to speak truth to power. Bannon said the maverick Democrat has a rebel streak that bucks the status quo because those established systems no longer work for the American people. He applauded Kennedy's willingness to question "the biopharmaceutical-medical-industrial complex" and other institutions like national security and the intelligence community.
~Here's to Our Liberty!
Copyright 2023, LibertySons.org