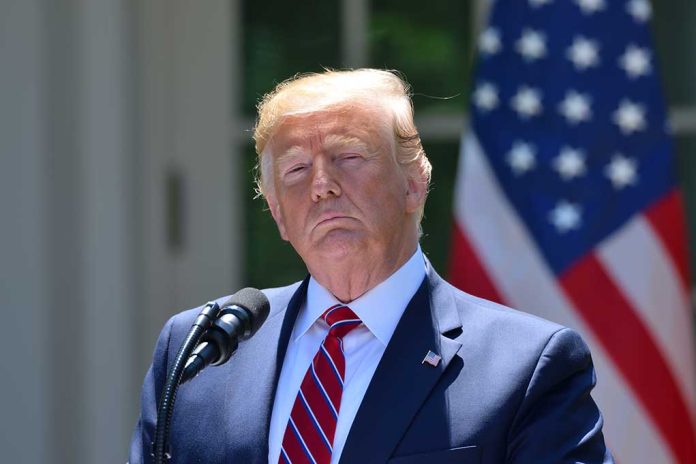 (LibertySons.org) – The COVID-19 pandemic rages on, despite promises by President Joe Biden, on the campaign trail, to bring it to a swift end. Americans show their disapproval for the administration's handling of the crisis through low approval rating polls, but former President Donald Trump is far more vocal.
In a newsletter to supporters, Trump expressed his dissatisfaction with the way Biden has handled the pandemic. He feels Joe Biden should no longer be president, citing the administration's many failures:
Refusal to investigate China's role in the pandemic
Poorly implemented pandemic measures
Inadequate access to coronavirus tests
The ongoing high COVID-19 death toll
Trump even accuses the president of collaborating with China to hide the virus's origins.
Donald Trump Says Joe Biden 'Is Bowing Down to China' by Not Investigating COVID Origins – Newsweek https://t.co/ngBcJ0oQHv

— DJTNN.com (@realDJTNN) December 29, 2021
Donald Trump cites Biden's refusal to hold China accountable as a key concern. He wanted the country to pay reparations for the damages from the spread of the virus. However, Biden has thus far refused to support his stance.
The former president also used the opportunity to draw attention to previous comments in which Biden claimed he would end the pandemic during his term. But, unfortunately, that hasn't yet come to pass; in fact, death rates are higher than ever as of December 2021.
Trump once again blasted the commander-in-chief for hypocrisy during a recent episode of Fox & Friends. He takes particular issue with Biden's 2020 statement that "anyone who is responsible for that many deaths should not remain as president of the United States." At the time, then-presidential candidate Joe Biden also called for his resignation.
The former president is calling for an investigation into the administration. Is it time to look into the administration's actions? Is the current administration honestly trying to find out where this virus originated?
~ Here's to Our Liberty!
Copyright 2022, LibertySons.org