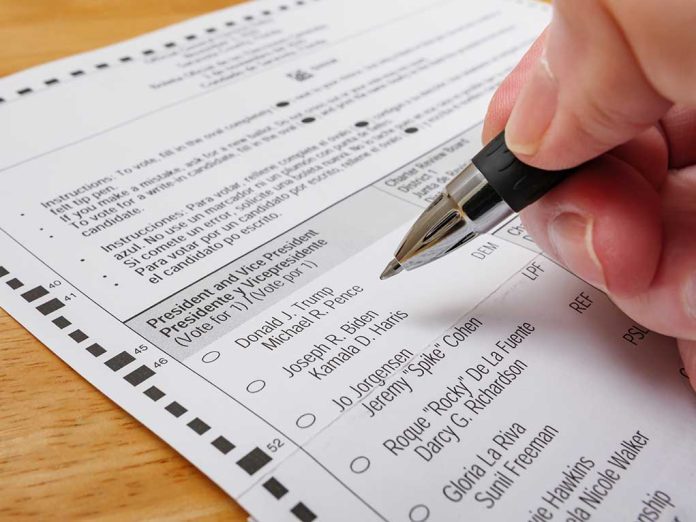 (LibertySons.org) – On July 13, 2021, President Joe Biden gave a speech at the National Constitution Center in Philadelphia on voters' rights. He said that about "150 Americans" voted in the election.
Former President Donald Trump pointed out in a statement that, assuming Biden meant 150 million votes, there was a discrepancy of 6 million votes between the 75 million he received and the 81 million the official count shows Biden got. The 45th president asked if this is proof enough the Democrats committed fraud during the 2020 election.
President Trump: Are Democrats conceding 6M stolen 2020 votes? – https://t.co/Xy5uGlVrVQ #OANN

— One America News (@OANN) July 14, 2021
Acknowledging the continuing questions over the 2020 election's validity, Biden's response was to call the voter fraud allegations "the big lie." He also spoke about how courts have repeatedly shot down cases involving such claims, reiterating the Left's stance that no fraud occurred during the election.
The statement is bold considering recent state audits and the flurry of issues coming to light. Fox News' Tucker Carlson said on his July 14 show that the audit in Fulton County, GA, revealed officials had double-counted 36 batches of mail-in ballots resulting in 3,000 more votes for Biden and 865 more for Trump. They also found seven audit tally sheets with falsified votes.
Similarly, in another high-profile audit, Arizona State Senate President, Karen Fann, said the numbers aren't matching up in the Maricopa County investigation. And, in Pennsylvania, state Senator Doug Mastriano is launching a forensic investigation into various counties' 2020 election records.
With so many questions still swirling about and the evidence starting to mount, will Americans begin losing their trust in the election system? Are Democrats going to continue to deny anything malicious could have occurred? The truth will eventually surface.
~Here's to Our Liberty!
Copyright 2021, LibertySons.org