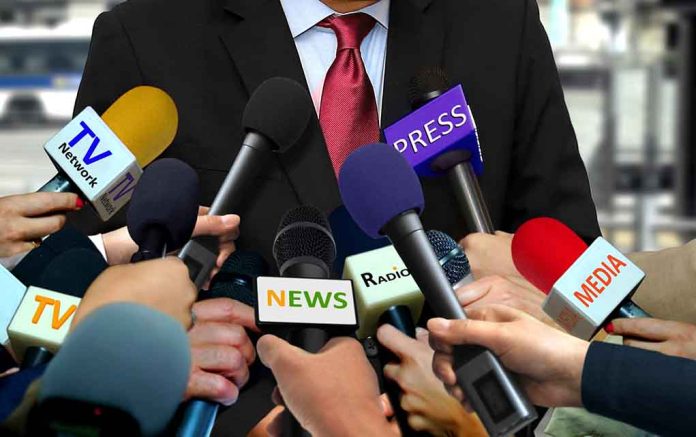 (LibertySons.org) – A federal jury assessed former President Donald Trump as civilly liable for sexual assault and defamation against former columnist E. Jean Carroll on Tuesday, May 9, awarding her $5 million in punitive and compensatory damages. The jury delivered the results after deliberating for approximately three hours. After the jury presented its findings, Trump lawyer Joe Tacopina held a press conference on the courthouse steps only to find himself interrupted by a heckler.
Tacopina called the verdict "strange" and perplexing because Carroll claimed it was "a rape case," yet the jury didn't find Trump liable regarding that allegation. Moreover, the attorney claimed his team laid the groundwork for a successful appeal weeks before when they filed for a mistrial.
You're a F*cking Neanderthal!' Trump Lawyer's Press Conference Interrupted By Hecklerhttps://t.co/3oFlv8ANdT

— Mediaite (@Mediaite) May 9, 2023
One reporter asked whether the speed with which the jury returned a decision surprised Tacopina. He admitted it was a fast decision and pointed out the pace brought into question whether his client did or could receive a fair and unbiased trial in New York City.
Trump chose not to attend the trial proceedings, and his defense team relied on his taped depositions and cross-examinations of the claimant and supporting witnesses. In a Tuesday evening Truth Social post, the former commander-in-chief called the verdict "A DISGRACE," maintaining his claim that he had never met Carroll and had no idea who she was.
Asked about Trump's absence, Tacopina told the press the trial was "a circus atmosphere" and having the former president there would have made it even more so. The attorney insisted that Trump had said everything he needed to say in the taped deposition with his declaration of innocence.
As Tacopina took questions from the press, a heckler called out repeatedly, cursing and calling the attorney a "f***ing Neanderthal." Although the lawyer distractedly answered a few more questions, he told reporters he had "a fan" who wanted to speak with him, eliciting chuckles from the press corp.
~Here's to Our Liberty!
Copyright 2023, LibertySons.org