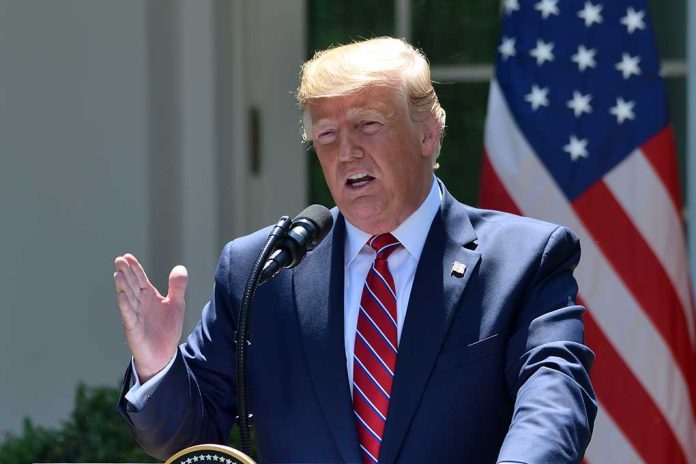 Trump Issues Apology after False Stories Emerge about Him
(LibertySons.org) – In the aftermath of a less-than-stellar GOP performance in the midterm elections, former President Donald Trump is fighting stories that he has been flying off the handle at the people closest to him. Multiple reports indicate the former leader placed the blame on his wife and conservative host Sean Hannity for backing Dr. Mehmet Oz (R) in the Pennsylvania Senate race. But Trump refuted those accusations, stating the story was simply "fake news."
Trump apologizes to Melania, Hannity for "fictional stories" over Oz backing https://t.co/5asPYrjDHn pic.twitter.com/UVGRB3Qoh6

— The Hill (@thehill) November 10, 2022
In a Truth Social post on November 10, the former Commander in Chief apologized to former First Lady Melania Trump and Hannity for what he called "fictional stories" in the press. He spoke about the media spreading lies and making up stories they couldn't back up with legitimate sources. He also called publishers of such content "corrupt and crooked."
The remarks likely refer partly to a November 9 tweet by Maggie Haberman of the New York Times. She stated unidentified sources told her Trump was upset about the midterm results. The journalist noted he was furious over Oz losing the Pennsylvania Senate seat and claimed the previous president was "blaming everyone who advised him" to support the doctor, specifically his wife.
Then, there was an ABC News story about Trump being unhappy with Hannity and Mrs. Trump. Again, the outlet cited unnamed insiders, saying the Fox News host encouraged the former president to endorse Oz and is now facing backlash for it.
~Here's to Our Liberty!
Copyright 2022, LibertySons.org