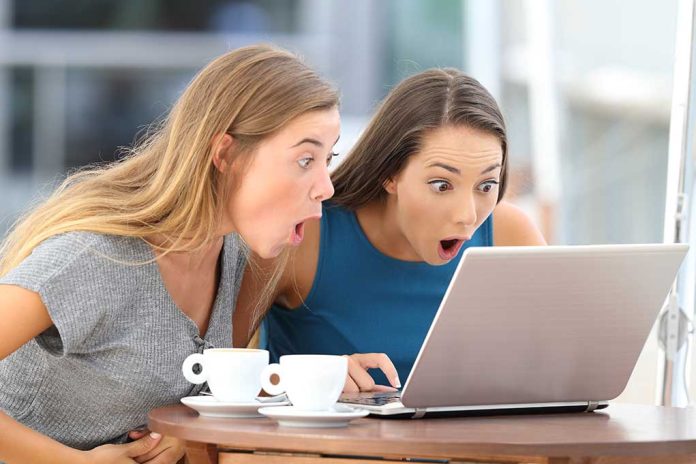 (LibertySons.org) – Former President Donald Trump was the first person to announce his 2024 candidacy. While President Joe Biden has mentioned his intentions to seek reelection, he hasn't officially tossed his hat in the ring. For now, Trump is running unopposed, but that doesn't mean he's acting complacent about his chances of securing the Republican nomination.
The former president recently started speaking out about potential contenders, such as Florida's Republican Governor, Ron DeSantis. He recently re-posted a photograph of DeSantis on his Truth Social account surrounded by what appears to be teenage girls.
Trump going heavy on the "DeSantis is a pedophile" stuff today. pic.twitter.com/LS2zRpke3z

— Will Sommer (@willsommer) February 7, 2023
DeSantis, a former teacher, is holding a bottle of what appears to be alcohol. The photo also contained a caption that claimed DeSantis was grooming these young women with booze. Trump sarcastically claimed it wasn't the Florida governor in the picture, writing, "he would never do such a thing."
According to a recent report by The New York Times, several of the governor's old students recall him being present at many high school parties. One student mentioned that as an 18-year-old, they wondered why DeSantis was at a party with a bunch of kids.
Two women, and former students of the governor, said they didn't mind his presence. They explained that it was after graduation and said they thought "he was cute."
DeSantis responded to Trump's post while speaking with reporters at a press conference. He contrasted his actions with those of the former president, stating that he spends his time battling the woke policies of President Biden and his Democratic accomplices — not bashing fellow Republicans.
BREAKING: DeSantis responds to Trump ReTruth accusing him of being a "groomer"

"I'd just say this. I spend my time delivering results for the people of Florida and fighting against Joe Biden […] I don't spend my time trying to smear other Republicans." pic.twitter.com/Ddj9Mb1MYj

— Florida's Voice (@FLVoiceNews) February 8, 2023
The governor's response was one of the only times he's directly fired back at Trump, with the first coming in late 2022 when the 45th president coined a nickname for him, "Ron DeSanctimonious."
DeSantis is largely seen as one of Trump's biggest contenders, with some conservatives stating that they prefer his gentler approach to politics and lack of baggage from his past.
~Here's to Our Liberty!
Copyright 2023, LibertySons.org