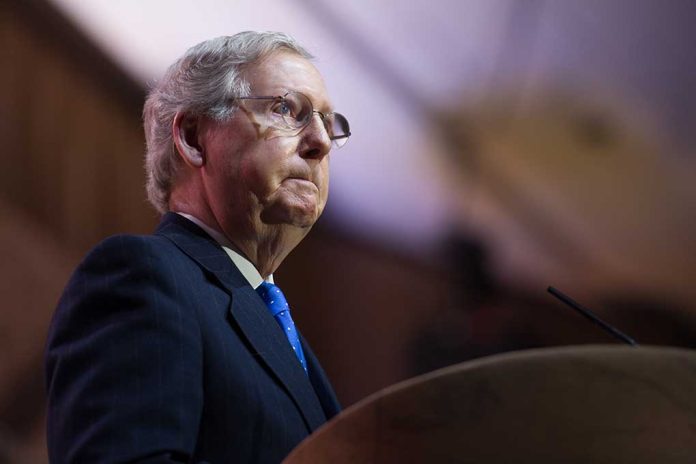 (LibertySons.org) – Former President Donald Trump sat with John Solomon to speak about a range of political topics during a segment on the "Just the News" podcast "John Solomon Reports." The January 10 interview touched on Senate Minority Leader Mitch McConnell (R-KY), with the former US leader expressing concern that the Kentucky senator would prevent the GOP from accomplishing its goals in the 118th Congress.
Trump says GOP's 'big problem' is Mitch McConnell's big spending, China ties | Just The News https://t.co/9tSvuuZ9Oh

— John Solomon (@jsolomonReports) January 11, 2023
Solomon asked Trump about Representative Kevin McCarthy (R-CA) becoming speaker. The former president explained he felt the legislator was a good choice for the position but had worried about the image the GOP was projecting by infighting over the vote. Trump noted he took steps to connect with people and encourage support for the Californian. He's glad the drama is over but expressed continuing concerns over the party's future.
The House Republicans' agenda includes strengthening the economy, which involves reducing dependency on China and cutting spending. They created a committee to assess the Asian superpower, a huge bipartisan effort, with a 365-65 vote. The House Select Committee on the Strategic Competition Between the US and the Chinese Communist Party will develop policies to help protect the US position against China while competing in a global economy.
The former president expects McConnell to be a "big problem" for the GOP in reaching these goals. Trump warned that the senator has ties to China that make him biased. He pointed out that the congressman's wife, Elaine Chao, who is an immigrant from Taiwan, is "wedded to China."
He also spoke about McConnell making a bad spending deal at the end of the 117th Congress with Democrats, which cost Americans $1.7 trillion. Trump said it showed McConnell, whom he called an "embarrassment to Republicans," will do anything for Democrats. But the former president quipped that the senator has his loyal group who will always side with him because he is a good fundraiser and donates to their campaigns.
~Here's to Our Liberty!
Copyright 2023, LibertySons.org