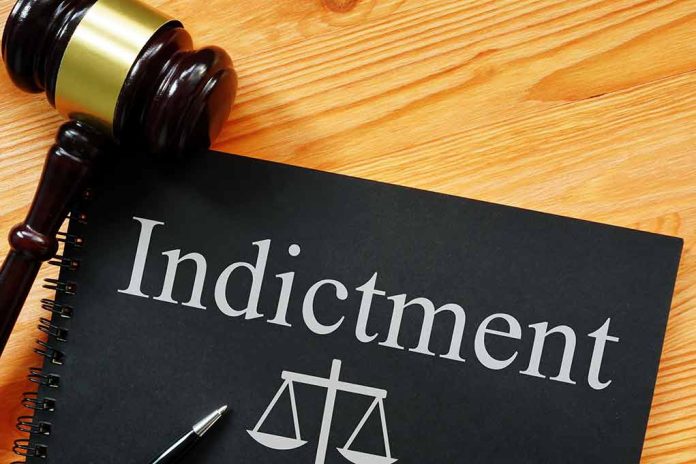 (LibertySons.org) – A federal grand jury in Florida handed down a sealed indictment against former President Donald Trump on June 8. In an exclusive interview with Fox News Digital, Trump claimed it was the "highest level" interference yet in his bid for the 2024 Republican nomination.
Trump Declares Innocence, Explains Timing
On June 9, the Department of Justice (DOJ) unsealed the criminal indictment against Trump, revealing allegations of 37 counts in seven crime categories. Yet, the former president had loudly declared his innocence on a televised broadcast the night before.
As part of his defense during the Fox program, Trump cited the Presidential Records Act, claiming it would totally exonerate him. Moreover, he called President Joe Biden's team "the most corrupt administration in history." He claims the indictments are coming now to cover revelations in the ongoing House Oversight Committee investigation into an FBI form FD-1023 which plays a part in the committee's influence-peddling bribery investigation of the Biden family.
Trump characterized the "ridiculous boxes hoax case" as a deflection. He said the Biden administration wouldn't succeed with the ruse.
Republican Troops Rally
Despite the 37-count indictment, many House Republicans voiced their support for Trump. Rep. Steve Scalise (R-LA) was one of the first to call out the Biden administration for what he called a "sham" in an "endless" stream of "political persecution," according to The New York Times. Speaker Kevin McCarthy (R-CA) lamented the "grave injustice" of Biden using the DOJ to hamstring his political opponent.
Rep. Elise Stefanik (R-NY) joined Trump in suggesting that special counsel Smith timed his indictments to distract from the House Oversight and Judicial Committees investigations into the FBI, DOJ, and allegations of a Biden family pay-for-play influence peddling scheme.
Still, some GOP members have taken a much different position. Sen. Mitt Romney (R-UT) said the former president had "brought these charges upon himself" despite" numerous opportunities" to avoid them. Former New Jersey Gov. Chris Christie called the facts of the case "devastating" in an interview with Jake Tapper on CNN. Former Attorney General Bill Barr called the indictment "very damning." Barr told Fox News Sunday that even if as little as half the material in the charges were true, Trump's political career moving forward could be "toast."
Next Steps
Federal prosecutors ordered Trump and his legal team to appear in federal court in Miami on Tuesday, June 13 at 3PM EST, to respond to the indictment. After entering his plea with the judge, legal teams for both the prosecution and the defense will begin working on the parameters for an order to allow them to share evidence.
However, sharing information could prove problematic because much of it is classified, making the discovery process and the ability to introduce evidence into the court record more difficult.
~Here's to Our Liberty!
Copyright 2023, LibertySons.org