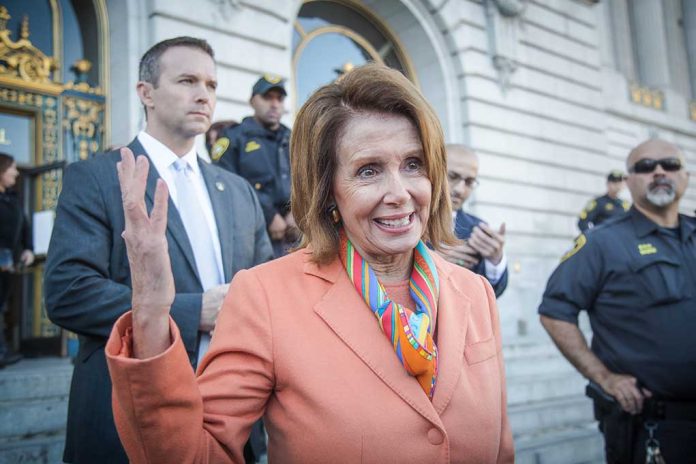 (LibertySons.org) – The new House select committee held a televised hearing for the first time on July 27 and is already facing harsh criticism. Set to investigate the incidents at the nation's capital on January 6, many feel the committee's creation is little more than a Democratic stunt to sway the upcoming midterm elections in their favor.
On July 26, 2021, former President Donald Trump released a statement through the Save America PAC on House Speaker Nancy Pelosi's (D-CA) involvement with the January 6 select committee. He asked what exactly the speaker intends to investigate and if she will include herself as a subject of the inquiry?
https://twitter.com/Ghostriderjimc/status/1420018443986821130
Trump also asked if Pelosi's select committee would:
Look into voter fraud allegations that led to the enormous crowds that day;
Investigate the alleged denial of extra security protection despite the fact it was well-known that large groups would be in Washington DC that day;
Release the tapes from that day that would reveal who killed Ashli Babbitt;
Review the possible involvement of other groups like Black Lives Matter and Antifa; and
Examine other riots that occurred throughout American cities in 2020 and caused death and destruction.
Trump summed up his thoughts by saying the committee and Pelosi are wasting money and time on a partisan effort.
The former president is not alone in his opinions about the House Speaker and her committee. In February, four Republican representatives sent a letter to Pelosi accusing her of partial responsibility for the January 6 events and handling the incident in a partisan way.
There is also the issue of her refusal to seat two Republicans on the select committee nominated by House Minority Leader Kevin McCarthy (R-CA).  She additionally placed outspoken Trump critics as part of an effort to claim the committee was bipartisan.
Pelosi may have her January 6 select committee, but America is watching to see if Democrats try to turn the proceedings to its benefit, Donald Trump in particular.
~Here's to Our Liberty!
Copyright 2021, LibertySons.org