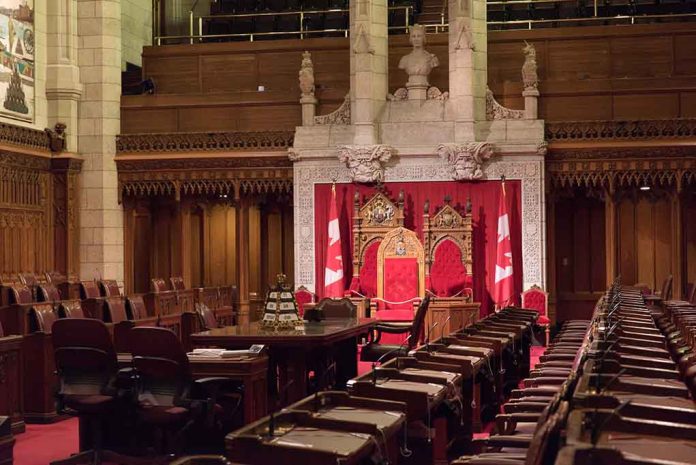 (LibertySons.org) – The Freedom Convoy of truckers that took over Ottawa, Canada, to protest vaccine mandates continues to cause headaches for Prime Minister Justin Trudeau. His first approach was to ignore them; he soon learned that wouldn't work. When he finally made a legislative move, it managed to cause a new uproar.
Trudeau initiated the Emergencies Act on February 14. The move allows him to have the power to completely control the situation and essentially end the convoy's efforts. The legislation essentially grants the PM a total of 30 days to address a national crisis. Many people consider the act a terrible misstep and a blatant example of government overreach.
Conservative Party interim Leader Candice Bergen recently questioned whether Trudeau's decision to call on the Emergency Act was even legal in Parliament:
The Prime Minister is in denial and he doesn't have a plan to end the mandates and restrictions. pic.twitter.com/101rO9mgyA

— Candice Bergen (@CandiceBergenMP) February 16, 2022
The Emergencies Act has a high validation threshold, but Bergen isn't convinced PM Trudeau had enough justification for implementing it on Valentine's Day. She also wonders how the decision negatively impacts individual rights and freedoms.
Bergan also reminded Trudeau that he must have approval from parliament to evoke this order. She asked when the debates would begin.
The PM's response didn't address any of her questions. He restated that he felt this was the correct way to react and the only way to keep Canadians safe. Throughout his response, the vocal disagreement almost drowned out his words.
Trudeau's decision remains highly controversial. He faces opposition not only in parliament but also from some premiers and local law enforcement leaders. The Canadian Civil Liberties Association warned the use of the Act could damage the country.
~Here's to Our Liberty!
Copyright 2022, LibertySons.org