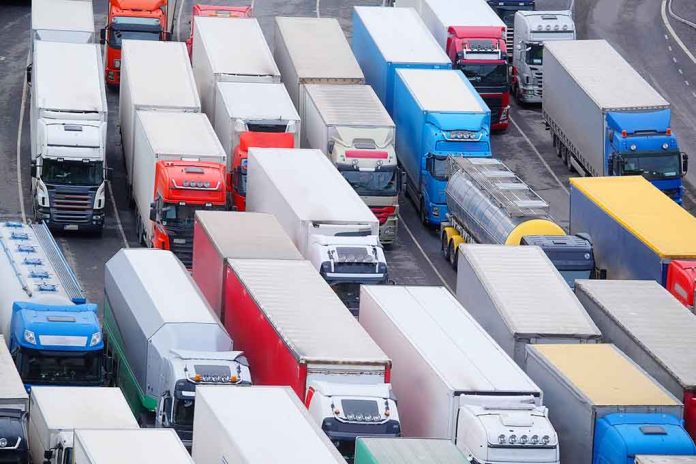 (LibertySons.org) – Groups began forming to protest covid mandates in the United States after the Canada's Freedom Convoy enjoyed some measure of success. Two of those efforts are the Freedom Convoy USA 2022 and The People's Convoy; but they will soon merge into one.
Kyle Sefcik, the organizer of the Freedom Convoy USA 2022, recognized The People's Convoy as the official one and urged anyone looking to join them to merge with that group.
Organizers of #FreedomConvoy2022 are urging all truckers and patriots who planned on joining them in their trek to #WashingtonDC to change course and join the main group, The #PeoplesConvoy, which as of Saturday morning had reached Amarillo, #Texas. https://t.co/pCcyv4zmPc

— The Epoch Times (@EpochTimes) February 27, 2022
Sefcik said after disappointing numbers and failed launches in California, the group will abandon the planned northern route in favor of moving to meet with the other convoy as soon as possible. He apologized to people along the original path awaiting their arrival for not going forward as planned.
The organizer said he expects the groups to meet up in Indianapolis and continue to Washington, D.C. His group was last in Las Vegas, NV, and The People's Convoy was in Amarillo, TX as of the morning of February 26, with plans to be in Elk City, OK by that evening.
Sefcik reminded followers that the original idea was to eventually come together as one large group to head into the capital. He also noted both convoys are in this for the same purpose.
~Here's to Our Liberty!
Copyright 2022, LibertySons.org