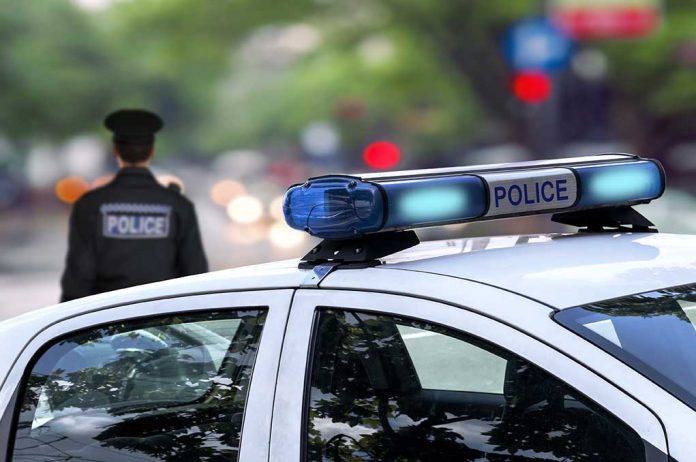 (LibertySons.org) – Several states have moved to ban gender-affirming surgeries for children under the age of 18. The state of Utah joined that group earlier this year after its passage of SB16. State Senator Mike Kennedy (R) sponsored the bill, which led to an attack on his home.
The Republican lawmaker recently woke up and discovered that a person or a group of people vandalized his home. The words "fash," a slang term for fascist, and "these trannies bash back" were visible on the garage doors of the senator's home in Alpine, Utah. The vandal used red spray paint to deface Kennedy's house.
Utah state Sen. Mike Kennedy 's home vandalized after sponsoring transgender bill https://t.co/3TYWfwQja1 pic.twitter.com/eN76nh29m0

— New York Post (@nypost) April 22, 2023
Equality Utah, the state's top LGBTQ activist group, responded to the vandalism by condemning it in a statement on Twitter. The organization claimed it didn't have any knowledge pertaining to the person responsible but wanted to "make it clear" that it denounces violence and vandalism. The group said those kinds of tactics don't do any good for Utah's LGBTQ community and don't help their cause to "advance a climate of equality."
Authorities believe the vandalism was a form of retaliation for the senator's decision to sponsor SB16, which bans minors from receiving transgender medical treatment. The bill was recently signed into law by Governor Spencer Cox (R-UT).
Equality Utah responds to vandalism directed toward Sen. Mike Kennedy#EqualityUtah #utpol #utleg #lgbtq #trans pic.twitter.com/QWdjUsahEi

— Equality Utah (@EqualityUtah) April 21, 2023
Kennedy took to social media to share pictures of the vandalism and send a message to those responsible for the crime. The senator wrote on his Facebook account that "violence, vandalism, and intimidation" won't stop him from "standing up" for what he believes is right. He called the vandalism an attack on the "very principles" that Utah "stands for."
Rather than allow the attack to deter him from his goals as a lawmaker, Kennedy asserted that he was "more determined than ever" to fight the radical agenda attempting to make its way into Utah. The senator declared he wouldn't be backing down.
~Here's to Our Liberty!
Copyright 2023, LibertySons.org