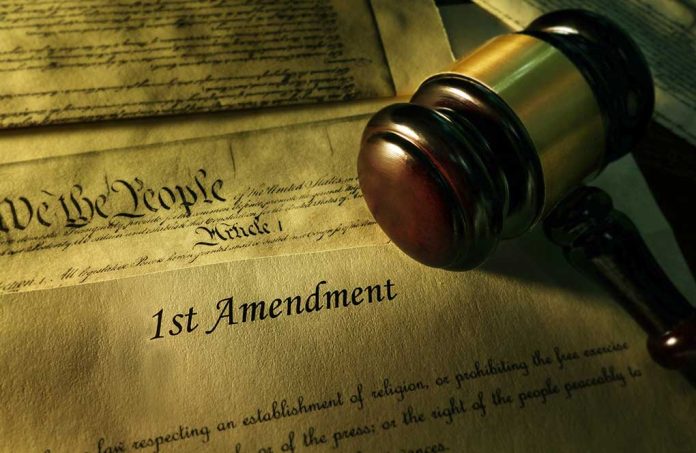 OOPS! – Tom Cotton's ARREST Demand Just Hit A Snag…
(LibertySons.org) – After someone leaked the US Supreme Court draft decision regarding the future of Roe v. Wade, abortion activists have launched protests at the homes of justices who may overturn the case. While the right to free speech allows for peaceful demonstrations, federal law prohibits doing so to intimidate a justice at his or her place of residence. Senator Tom Cotton (R-AR) is calling on Attorney General Merrick Garland to prosecute those breaking this law.
Tom Cotton wants protestors at Justices homes arrested. His view is too extreme, even for most of the GOP https://t.co/Lr2I73pa9P

— Mike Williams ☮️ (@drummike2012) May 12, 2022
Federal code 18 USC 1507 states it's unlawful to intentionally try and influence a justice through demonstrations at or near their home. The law allows for punishment of a fine and up to one year in prison. Cotton cited this rule in his letter to Garland, asking why he has yet to enforce it against protestors who have set up outside the homes of Justices Alito, Kavanaugh, Barrett, Gorsuch, Thomas, and Roberts.
The senator is facing opposition within his party about his request. NBC News reported Senator Cynthia Lummis (R-WY) said as long as demonstrators are peaceful and not destructive, their actions fall under free speech. She said it's essential to exercise caution regarding these rights because they are so important. She called it "extremely dangerous" to create fear around the freedom of expression.
NBC also reported Senator Mike Braun (R-IN) backed Lummis. He thinks protecting rights is essential, and as long as the action remain peaceful, it is allowable.
Is Senator Cotton right in asking for the enforcement of the law, or are these people simply exercising their right to free speech?
~Here's to Our Liberty!
Copyright 2022, LibertySons.org