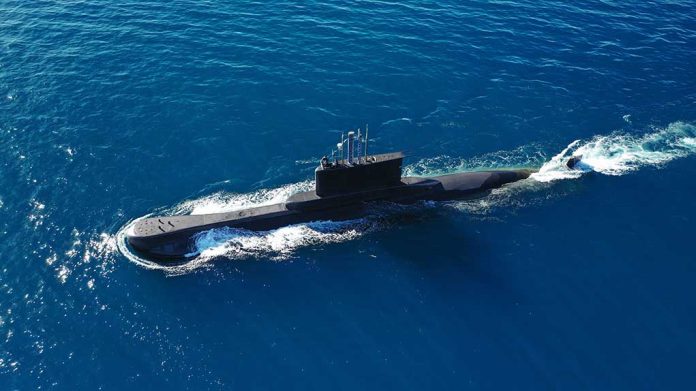 This U.S. Weapon Program May Not Be Able To Retire…
(LibertySons.org) – US Navy representatives held a keel laying ceremony for the Columbia-class submarine at Quonset Point, Rhode Island, on June 4. The new subs are supposed to replace the old Ohio-class model, but the construction is behind schedule, leaving the old subs in commission — indefinitely. Mounting threats from foreign adversaries means the military can't afford to have a lull in ballistic missile submarine numbers.
Impressive but Troubled
The new vessels measure 560 feet long by 43 feet wide and are reportedly the quietest submarines ever made. These boats can carry Mk 48 Advanced Capability torpedoes, 16 Trident II D5 submarine-launched ballistic missiles, and 8 reentry vehicles.
The model will have a Common Missile Compartment, developed together with the British Royal Navy, and a 42-year service life. In addition, the upgrades have superior sensors, advanced acoustics, and no requirement to refuel the reactor throughout its time in the seas.
The Navy intends to build 12 submersibles, the first being the USS District of Columbia. It is currently in production and slated for duty in 2027 but won't be out on the water patrolling until 2031. Plans are to begin number two, the USS Wisconsin, in March 2024.
Despite the intent, the US Government Accountability Office June 2022 report showed the program saw increasing costs, with a projected budget of $112 billion. There is also a medium risk the building schedule could fall short due to construction issues, COVID-19 delays, and other problems holding up the project.
Keeping the Ohio-Class
While the Columbia subs sound nice, the new craft won't be ready for deployment anytime soon, so US forces will need to rely on the current vessels a while longer. Eighteen of them were originally built between 1976 and 1997. Twenty years ago, the Navy converted the four oldest into cruise-missile submarines.
The initial service life was 30 years, but the military increased that span to 42 years after seeing the vehicles' importance. Only 5 of the remaining 14 are younger than 30 years, and decommissioning should start in 2027. The timeline is tight to roll out the Columbia-class and take the retired Ohio-class vehicles' place.
Officials are considering extending the life again. Rear Admiral Scott Pappano said there is the potential to extend the life by a couple of years and do some short repairs to keep the crafts in operation. He explained experts are currently evaluating that option.
At the keel laying ceremony, officials stressed that building the Columbia-class submarines is a top priority. Navy Secretary Carlos Del Toro noted that the safety of the sailors and national security depends on ensuring these updated vessels start operating on schedule.
~Here's to Our Liberty!
Copyright 2022, LibertySons.org