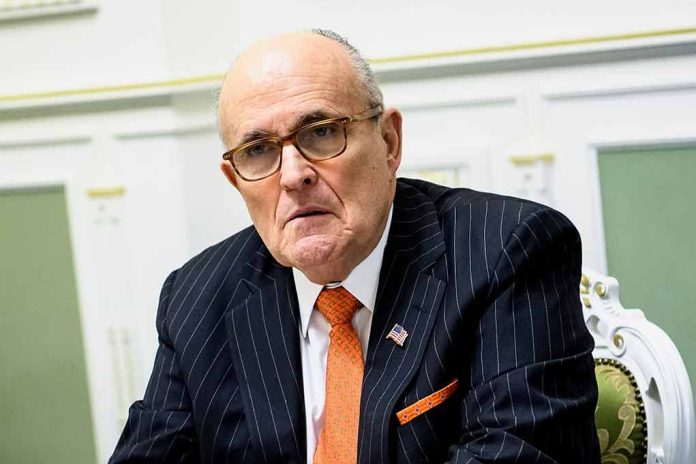 (LibertySons.org) – Ruby Freeman and Shaye Moss became the public faces of former President Trump's election fraud claims in Georgia thanks to his attorney, Rudy Giuliani. The women fought back, filing a lawsuit against him for defamation. However, in documents filed this week, their attorneys claim the former mayor of New York failed to preserve and produce subpoenaed electronic evidence, triggering a request for discovery sanctions. Reports indicate US District Court Judge Beryl Howell might soon unload those punishment requests on Giuliani in response.
Attorneys for Freeman and Moss cited examples to Judge Howell of requested evidence that Giuliani has refused to produce after repeated reminders and requested that the judge impose "severe" sanctions, according to The Hill. In their motion, the plaintiffs' lawyers argued that Guiliani's behavior is hampering their ability to present their case and is "disrespectful to the court."
Their examples included two email chains between Giuliani and Trump adviser Boris Epshteyn. The first, from December 7, 2020, documented "an urgent POTUS request" forwarded by Epshteyn asking for examples of alleged election fraud. He asked for the "best examples" that allies had claimed, even if unproven, as long as people could easily understand them. Giuliani responded, claiming security camera footage in Atlanta showing Freeman and Moss moving ballots represented the "theft of a minimum of 30,000 votes," according to the plaintiffs' court filing.
The attorneys' second example came from a December 13, 2020, email chain in which Epshteyn approved draft campaign language stating the video footage showed evidence of "30,000 illegal ballots cast after the observers were removed." The plaintiffs' legal team became aware of the evidence after the Select Committee to Investigate the January 6th Attack on the United States Capitol released the email during its discovery process.
Attorneys for Freeman and Moss are asking Judge Howell to order sanctions up to and including a summary finding for the plaintiffs, including legal fees and court costs because they don't believe Giuliani preserved the requested data as required by law. Alternatively, they are asking the court to order Giuliani to produce his devices to the plaintiffs and their attorneys for examination and pay for the associated costs.
Further supporting their case, The Hill reported that the Georgia election board formally exonerated the two election workers of any wrongdoing on June 20, finding all of the Trump campaign's allegations against the two "false and unsubstantiated." In a statement, Georgia's Secretary of State Brad Raffensperger praised election workers for their contributions and noted, "False claims and […] allegations made against these election workers have done tremendous harm."
~Here's to Our Liberty!
Copyright 2023, LibertySons.org