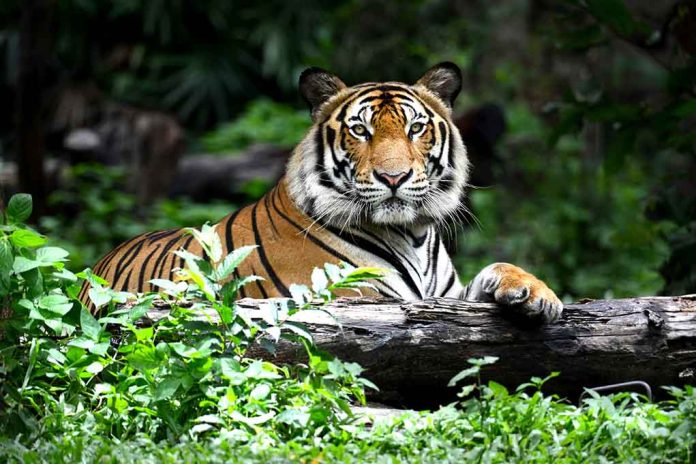 (LibertySons.org) – At the beginning of the COVID-19 pandemic, Netflix released a documentary that rapidly became one of the biggest stories of 2020. Tiger King, led by the vibrant and outspoken Joe Exotic, instantly attracted a cult following. When Exotic ended up behind bars, fans started screaming for his release. The former Greater Wynnewood Exotic Animal Park leader now says he has evidence proving his innocence.
In an exclusive interview with DailyMailTV, the former zookeeper said he can now prove the evidence used to convict him of animal cruelty and attempted murder-for-hire was false. He says prosecutor Amanda Green and FBI agent Matt Bryant knew that information provided by Jeff Lowe, his former business partner, and Allen Glover, a former friend, was invalid.
Tiger King star Joe Exotic claims new evidence in murder-for-hire case is going to 'shock the world' https://t.co/doRdifT6Ey

— Daily Mail Celebrity (@DailyMailCeleb) December 2, 2021
Both men admit to lying in their testimony.
Joe Exotic, whose real name is Joseph Maldonado-Passage, feels his previous attorneys failed to introduce substantial evidence during case proceedings. He claims he never killed tigers unless they suffered due to age or pain and only with veterinary approval. The Tiger King also accuses Green and Bryant of obstruction of justice, asserting that it raises questions about the quality of their work in past cases.
Attorney John Phillips is using false testimony and documentation from Exotic's veterinarian to provide new evidence to the courts in hopes of overturning his conviction for animal cruelty. He also plans to present evidence showing witnesses lied and a contrived text conversation in the murder-for-hire case.
Exotic received a 22-year sentence for federal wildlife law violations and for his part in a murder-for-hire plot against animal activist Carole Baskin. He continues to wait for resentencing after an appeals court ruled that his original sentence contained calculation errors. The Netflix star remains in custody at the Butner Federal Medical Center in North Carolina, where he is receiving treatment for prostate cancer.
~Here's to Our Liberty!
Copyright 2021, LibertySons.org