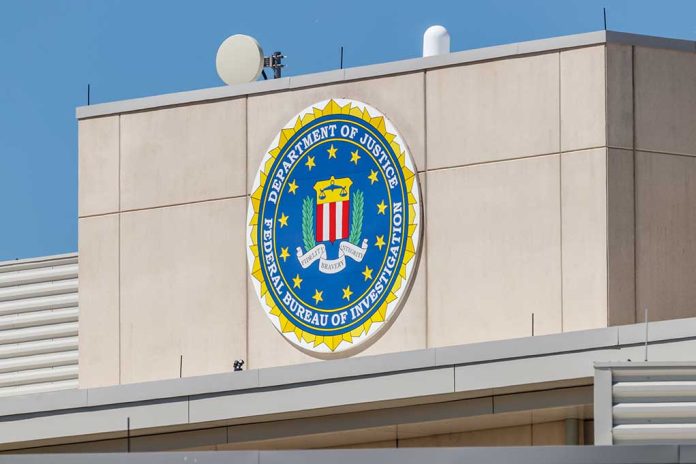 This FBI List Should Make Every American Angry…
(LibertySons.org) – According to leaked documents from the FBI, the popular Don't Tread on Me flag and spartan imagery are signs someone may be a militant violent extremist (MVE). Project Veritas revealed the internal papers on August 2 after receiving them from an alleged FBI whistleblower. The information indicates the above is part of agency training materials for spotting domestic terrorists — a classification that could land many innocent people on a watchlist.
FBI lists Ashli Babbitt, Second Amendment and 'Betsy Ross Flag' to on terror symbols guide: report | Just The News https://t.co/VHZ1hu3bEr

— John Solomon (@jsolomonReports) August 3, 2022
The guide includes symbols and references to the Revolutionary War and the Second Amendment as warning signs. The report also mentions Ashli Babbitt, who died during the January 6 incident at the Capitol, convicted domestic terrorist Timothy McVeigh, and Ruby Ridge as people and incidents MVEs tend to value. According to the papers, which indicate they are only for use inside the agency, historical images are also indicators of potential troublemakers.
The most alarming thing about the guide is that many of the supposed red flags are incredibly popular with conservatives. Could this be an indicator the FBI is using political reasons to drive its endeavors?
An op-ed in the Washington Examiner spoke to the idea of bias within the federal law enforcement agency. The author, Tim McMillan, a retired police lieutenant, pointed out that using a position of power to benefit a political motivation cannot ensure equal justice.
Do you think the leaked instructions are meant to attack patriots?
~Here's to Our Liberty!
Copyright 2022, LibertySons.org