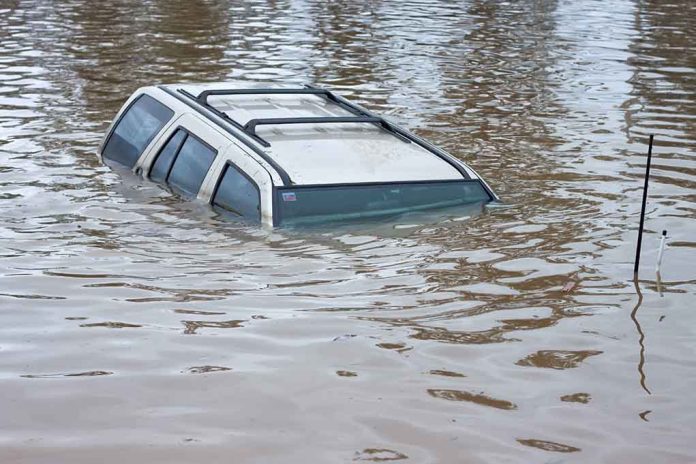 Flooding Near-tragedy – 4 Victims Saved by an Unlikely Hero
(LibertySons.org) – There is a popular saying that not all heroes wear capes. While that is true, it's also a fact that some of those brave souls aren't even out of their teen years. On July 3, 16-year-old Corion Evans threw fear aside as he rushed into a river to save three girls and a police officer from drowning.
16-year-old hero jumps into river to save 3 teen girls as their car sinks. He also rescues cop who swam out to help girls but started to struggle. https://t.co/HhIsv0J4Qq

— TheBlaze (@theblaze) July 6, 2022
The teen witnessed a car driving off the I-10 boat launch into the Pascagoula River in Mississippi. He said the whole car was almost submerged as he tossed his shoes, phone, and shirt aside to jump in. Another friend, Karon Bradley, also dove in to help.
Evans couldn't imagine letting anyone in the car die after the accident. His drive to save them propelled the 16-year-old through the water to the car's three occupants. As he helped them to shore, he also noticed Moss Point Police Officer Gary Mercer was struggling too and swam over to assist.
The hero had to drag the victims 25 yards to safety, but he is a strong swimmer who's been in the water since he was just a toddler. His skills clearly came in handy that day. Even though his legs were tired, he continued the rescue until everyone was safe. All three girls and the officer went to the hospital and are now recovering from the ordeal.
When she heard the news, Marquita Evans burst with pride over her son's quick thinking. Moss Point Police Chief Brandon Ashley called the teen brave and selfless and credited him with the happy outcome.
~Here's to Our Liberty!
Copyright 2022, LibertySons.org