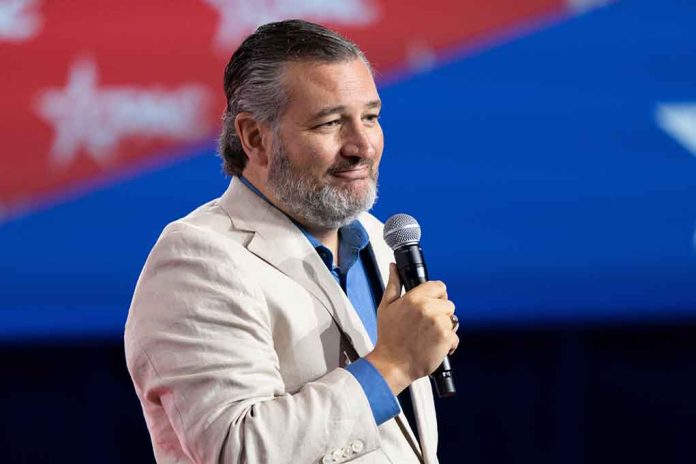 (LibertySons.org) – Passengers aboard a Southwest Airlines flight are likely feeling lucky after coming out of a potentially devastating situation completely unscathed. A FedEx flight was attempting to land at the same time the Southwest flight was taking off on the same runway. Thankfully, the FedEx pilots could pull back up and avoid crashing into the plane below them. Senator Ted Cruz (R-TX) recently discussed the incident during a Senate Committee on Commerce, Science, and Transportation hearing. He also played an animated recreation of the dangerous situation created by his staff.
Dodging Disaster
February 4 was an eventful day. President Joe Biden ordered a Chinese spy balloon to be shot down off the South Carolina coast, and across the country in Texas, two planes nearly collided on the runway. An air traffic controller at Austin-Bergstrom International Airport gave a Southwest flight the greenlight for take off. However, the pilots reportedly took too long, which resulted in a near miss.
A FedEx cargo plane descended on the runway as the Southwest flight took off. The cargo plane's pilots told the grounded aircraft to abort its takeoff, but the Southwest pilots ignored their instructions and proceeded with their takeoff.
Thankfully, the FedEx pilots acted quickly and maneuvered their plane to avoid smashing into the other aircraft. The two planes were less than 100 feet away as the Southwest flight took off from the runway.
A similar incident occurred at the John F. Kennedy International Airport in New York on January 13 when pilots flying a Delta Airlines plane forcibly stopped to avoid crashing into an American Airlines flight. That time, the two jets were within 1,000 feet of colliding with each other.
Cruz's Criticism
Senator Cruz had the Commerce Committee's staff play a video he described as a recreation of what happened at Austin-Bergstrom Airport. The footage shows sunny skies and clear conditions as a Southwest plane taxis the runway as a Boeing 767 cargo plane belonging to FedEx approaches for landing before eventually pulling up and veering to the side to avoid colliding with the passenger flight.
Cruz discussed the near collision with Billy Nolen, the administrator of the Federal Aviation Administration, during the hearing. The senator told him that the people aboard the Southwest Airlines flight must have been horrified by the situation, adding that something needed to be done to prevent future near-misses.
Cruz also expressed dismay that Transportation Secretary Pete Buttigieg didn't attend the hearing. He also suggested that instead of playing politics, Buttigieg should address the various transportation crises that have recently occurred across America, from near misses on runways to the recent epidemic of unknown aerial objects flying into US airspace.
~Here's to Our Liberty!
Copyright 2023, LibertySons.org