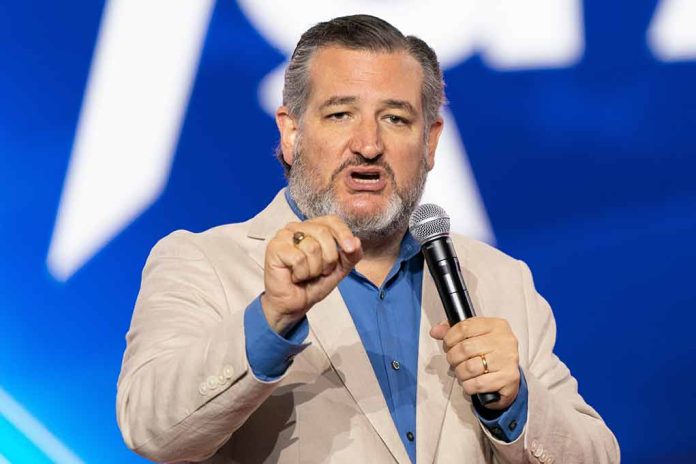 (LibertySons.org) – Mark Swidan was an ordinary businessman from Houston, Texas, who traveled to China in search of flooring and fixtures for home construction in November 2012. Chinese officials accused him of manufacturing and trafficking drugs, eventually convicting him and giving him a death sentence in 2019. On May 10, the Senate unanimously passed Texas Sen. Ted Cruz's (R) resolution calling for Swidan's immediate release.
Cruz and Texas Sen. John Cornyn (R) renewed their calls for Swidan's release in February, joined by Rep. Michael Cloud (R-TX), who submitted a companion House resolution that passed unanimously in April. All three Texas lawmakers are working as a unified front to raise Swidan's profile with Secretary of State Antony Blinken, hoping he might persuade Chinese leaders to release him.
Ted Cruz, In Quest To Free Mark Swidan, Sees No 'Great Power' In China https://t.co/hDvSnlpNHl pic.twitter.com/3Vso1W7N6X

— Daily Wire News (@DailyWireNews) May 17, 2023
In February, Cruz appeared on "Face the Nation" with Margaret Brennan to discuss Swidan's predicament. He described how the Chinese have held Swidan for years with "little to no evidence." He stated that if China truly aspires to become a "great nation," it must return the Texan "because great nations and great powers don't hold political prisoners."
On April 13, Cruz issued a press statement after Chinese courts denied Swidan's appeal of his conviction and death sentence, giving him a two-year stay of execution. He called the decision "an escalation" of China's unacceptable "detention and abuse." The senator again called on the Biden administration to use every tool to return Swidan safely. Yet, he also berated the Chinese Communist Party as a group of blackmailers willing to stoop to taking hostages to leverage their position with foreign nations.
After his resolution passed, first in the Senate Foreign Relations Committee and then in the full Senate, Cruz thanked and applauded his colleagues while stressing the urgency of the matter and asking for their help in further escalating the case nationally and internationally. He also issued a news release to highlight the action.
On April 26, Cruz spoke with Leland Vitttert of News Nation about the case, indicating that Swidan might be home if he were a WNBA player — alluding to Brittney Griner — or if some other country had detained him. Cruz told Vittert that the Biden administration seems afraid to stand up to China. Cruz remains hopeful that increased public and international pressure will force China to release Swidan.
~Here's to Our Liberty!
Copyright 2023, LibertySons.org