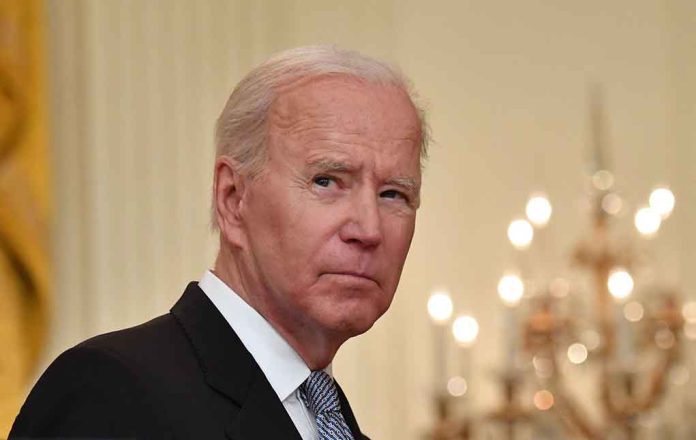 Biden's Twitter Post Gets Fact Checked
(LibertySons.org) – Conservatives on social media have become accustomed to fact-checking. Those little flags and notices appearing on posts alert people that a message contains errors. The official Twitter account for the President of the United States (POTUS) just got a reality ding from fact-checkers who say his claims about the Inflation Reduction Act aren't 100% true. Twitter user and conservative Terri Galvin thinks it's about time Democrats are held accountable for their words.
Finally, Twitter fact checks Liberals. Thank you, @ElonMusk. It's been so one sided. Bravo!

Twitter fact-checks Biden claim on corporations making billionshttps://t.co/KXSVwsJTey

— Terri Galvin (@TerriGalvin) October 31, 2022
On October 28, the POTUS account boasted that the new budget bill would stop companies from getting so many tax breaks that they pay nothing in federal taxes.
Let me give you the facts.

In 2020, 55 corporations made $40 billion. And they paid zero in federal taxes.

My Inflation Reduction Act puts an end to this.

— President Biden (@POTUS) October 29, 2022
The post stated 55 corporations paid no federal taxes in 2020, and the new law would ensure companies like those would all pay their fair share. An information box is now attached to the tweet. Users claimed under the Inflation Reduction Act, only 14 out of the 55 would have the tax liabilities. They included links so people could read more information and judge on the validity of the tweet themselves.
The fact-checking feature on Twitter, called Birdwatch, is user generated. People who join the service can post evidence of false statements made in posts, and other users can rate it for helpfulness. Twitter leaves the system's control in users' hands to ensure fairness.
~Here's to Our Liberty!
Copyright 2022, LibertySons.org