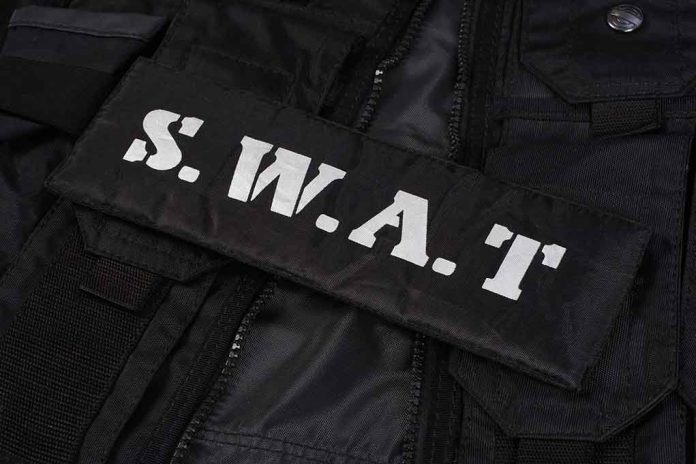 Man Climbs 5 Stories, Interrupting Swat Training Session
(LibertySons.org) – A 47-year-old suspect stands accused of accosting officers at a building in Homan Square near Chicago, Illinois. Authorities were participating in a SWAT training exercise in the facility when someone who wasn't part of the plan appeared. The unnamed assailant managed to scale five floors on the fire escape and enter the training grounds, where he then brandished weapons at officers until they subdued him.
Illinois man climbs five stories to infiltrate SWAT training, grabbed at least two guns before being shot https://t.co/ELvAIelCiK via @foxnews

— Chris 🇺🇸 (@Chris_1791) September 27, 2022
The man initially showed up at the facility, telling the guards he needed to retrieve some property. They directed him to the public entrance, but instead, he climbed up the side of the building and entered through a door a trainee had "propped open" for ventilation.
Once inside, the Waukegan native allegedly grabbed a couple of guns lying on a table for training purposes and pointed them at the officers. They called for backup, as the weapons for training only contained pellets. The gunman reportedly pointed his newly acquired weapons at the armed guards upon arrival, forcing them to fire and immobilize the man.
The perpetrator suffered non-life-threatening injuries, and officials took him to Stroger Hospital for treatment. One officer sustained a minor ankle injury during the encounter. There were no other victims.
The Civilian Office of Police Accountability is examining the situation. Investigators will look into exactly what transpired inside the facility, which video cameras did not catch. The suspect remains in custody, but there has been no announcement of charges levied against him.
~Here's to Our Liberty!
Copyright 2022, LibertySons.org