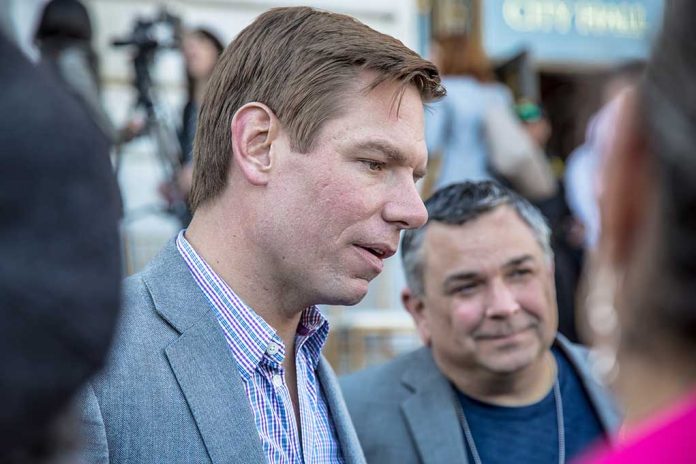 Swalwell Caught Using Son as Political Pawn – Immediately Regrets It!
(LibertySons.org) – Representative Eric Swalwell (D-CA) claims his 4-year-old son asked him what he planned to do about the Buffalo grocery store shooting that took the lives of 10 people on May 16. In a tweet, the representative said the small child used FaceTime to ask, "Why did the bad man do this?" Swalwell then used the question as a chance to push his gun reform agenda, but people weren't buying the validity of the story.
#Shooting #EricSwalwell Eric Swalwell Criticized for Sharing 4-Year-Old's Reaction to Buffalo: The Democrat defended tweeting about his young child and said that "we have a gun problem in America." https://t.co/4FtBW71rTk

— Solomon Phoenix (@SolomonPhoenix_) May 17, 2022
Some viewers were quick to rebuke that a young child would even be thinking about the tragedy and have the skills to say what Swalwell claimed. The representative quickly stood up for himself in a tweet.
I love the "no 4-year-old would ask this" takes. You're in absolute denial if you think our kids aren't watching the horrors we are allowing. pic.twitter.com/MnaWpCRTj3

— Rep. Eric Swalwell (@RepSwalwell) May 17, 2022
Some people took the chance to poke fun at the California lawmaker. Conservative commentator Allie Beth Stuckey made up her own story about a newly born child pondering why some politicians make up narratives to back their points.
My newborn, upon exiting the womb, looked up at me with her barely-open eyes and asked why politicians feel the need to create fictional stories about their offspring to make bad points

— Allie Beth Stuckey (@conservmillen) May 17, 2022
One Twitter user cautioned Swalwell about exposing such a young child to violent news. Still another said he would never allow his 5-year-old to watch a news story about mass murder, calling the move "bad parenting."
Swalwell continued to say what he posted was the truth, posting a screenshot showing a text conversation and an image of his son sitting in front of a television showing a broadcast of the event. He also maintained his stance on needing more gun control.
~Here's to Our Liberty!
Copyright 2022, LibertySons.org