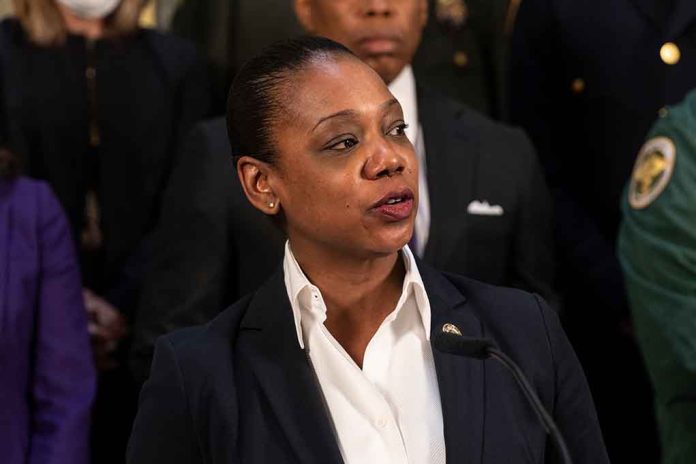 (LibertySons.org) – On April 12, around 8:24 a.m., an attacker began an assault inside a New York City subway train car on the N line at 36th Street and 4th Avenue. Cloaked in a gas mask, the man deployed smoke bombs and began shooting. Multiple people suffered injuries, including 10 people with gunshot wounds. The suspect fled the scene, but New York Police, led by Commissioner Keechant Sewell, sometime later named Frank R. James as a person of interest.
A man sought in connection with an attack on a subway train in Brooklyn that left 10 people shot is now considered a suspect, Mayor Eric Adams said Wednesday. https://t.co/yHVl2CQzlW

— PBS NewsHour (@NewsHour) April 13, 2022
James, who has residences in Wisconsin and Philadelphia, rented the van involved in the incident. Authorities also discovered social media videos featuring James with rants, violent messages, and criticisms of the mayor and governor of New York.
In an interview with MSNBC on April 13, NYC Mayor Eric Adams said he was unaware of any connections James has to the city. He said police believe the 62-year-old man acted alone. James was taken into custody on Wednesday afternoon.
Adams said James wanted to "create terror," and vowed authorities would bring him to justice. On April 13, police captured the suspect in the East Village of Manhattan, after bystanders alerted officers to his presence.
When addressing the rising crime in the city, the mayor spoke about the need for more gun restrictions, especially those that would block ghost guns, which he says is a severe issue. He also said it's imperative to close the "revolving door" in New York's criminal justice system. He declared a need to put dangerous people behind bars and keep them off the streets.
~Here's to Our Liberty!
Copyright 2022, LibertySons.org